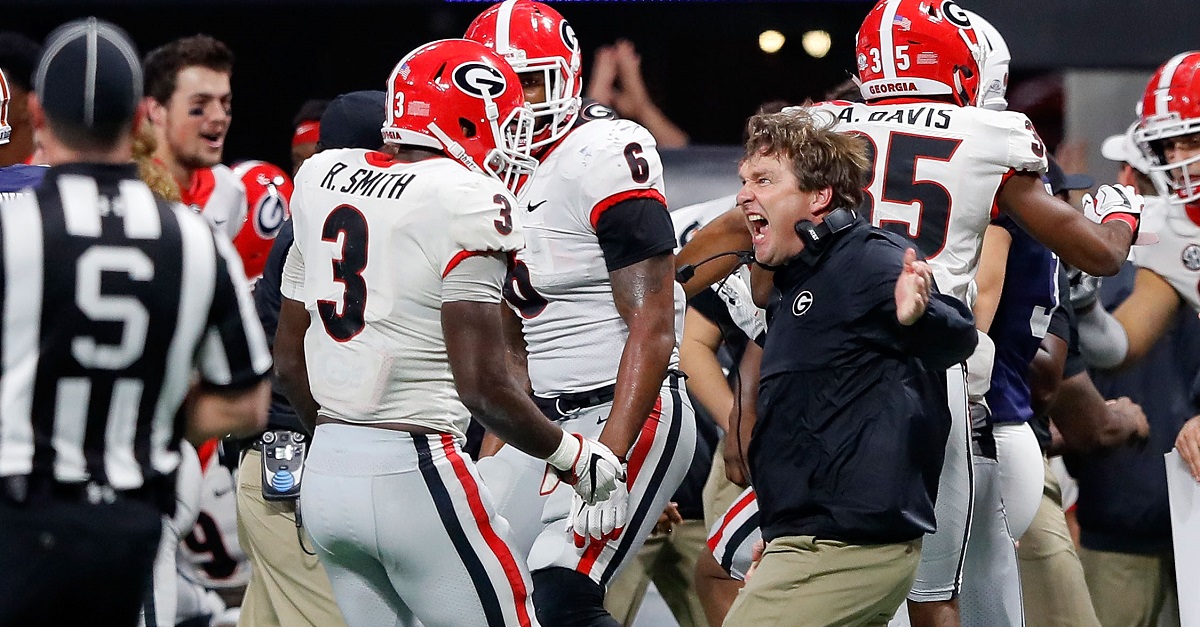 Kevin C. Cox/Getty Images
ATLANTA, GA - DECEMBER 02: Head coach Kirby Smart of the Georgia Bulldogs celebrates a blocked field goal with Roquan Smith #3 during the second half against the Auburn Tigers in the SEC Championship at Mercedes-Benz Stadium on December 2, 2017 in Atlanta, Georgia. (Photo by Kevin C. Cox/Getty Images)
Kirby Smart should be very happy with himself and the rest of his coaching staff right now. The Georgia Bulldogs have signed the No. 1 recruiting class for the 2018 cycle, and the team is in a good spot for the future after going to the national championship game in January.
However, Smart appears to know that you don't win trophies for that No. 1 recruiting ranking. Instead, Smart said he would willingly trade that No. 1 ranking in the recruiting rankings for the No. 1 ranking in the polls at the end of the season.
Via 247Sports:
"I think it's great," Smart said of signing the nation's top class. "I think it's great for the fan base, but I'd trade that No. 1 ranking for the last No. 1 ranking in the college football poll. That's what's important is what you do on the field, and that's what we'll be measured by as coaches, what we're able to do with this class, what they're able to do in development."
While getting the No. 1 recruiting class is clearly a big deal, Smart knows that it is what you do with those players that people will really remember. If you get that No. 1 class and don't win a title, then what did you really accomplish?
Georgia was 13-2 in the 2017-18 season, losing to Alabama 26-23 in the College Football Playoff national championship game. While the Bulldogs didn't win the national title, they did win their first SEC title since 2005. They will look to repeat as SEC Champions for the first time since 1982.
[H/T 247Sports]