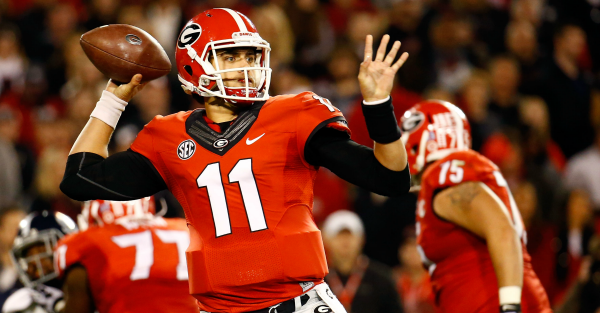 RELATED: Check out Jacob Eason's first video at UGA practice
___________________________________________________________________________________________________
Georgia fans expected early enrollee freshman Jacob Eason to take over the starting quarterback spot right away. However, that doesn't seem to be the case as coach Kirby Smart has let on how the QB competition is shaping up between Eason, fifth-year starter Greyson Lambert and junior Brice Ramsey.
Smart has described it as a back-and-forth battle between all three candidates, but it does seem there is a slight favorite among the quarterbacks.
"There's been a couple times where I thought Greyson was going to stick his head and shoulder above the pack, and then maybe he makes a poor decision," Smart said. "Then Brice makes a play. Then Jacob makes a throw. It has really been a see-saw battle."
Smart said the competition is likely to go into August camp and he will try to give them all equal looks during the spring game on Saturday. "We want the reps to come out even, and it's really not about for who wins or loses, it's how these guys play for their respective units," Smart said. "It's really important for us to get a fair look. I mean if there's 100 snaps, we want it to come out relatively even."
Lambert was very inconsistent last year in his first season at Georgia, but he draws raves for how he manages the offense — NFL fans will tell you that's code "good enough to start, but not good enough to win games". Ramsey's strong point is his arm and even lately his feet. As for Eason — a five-star recruit — his talent has been evident, but so has been the fact he should still be in high school.
[h/t DawgNation]