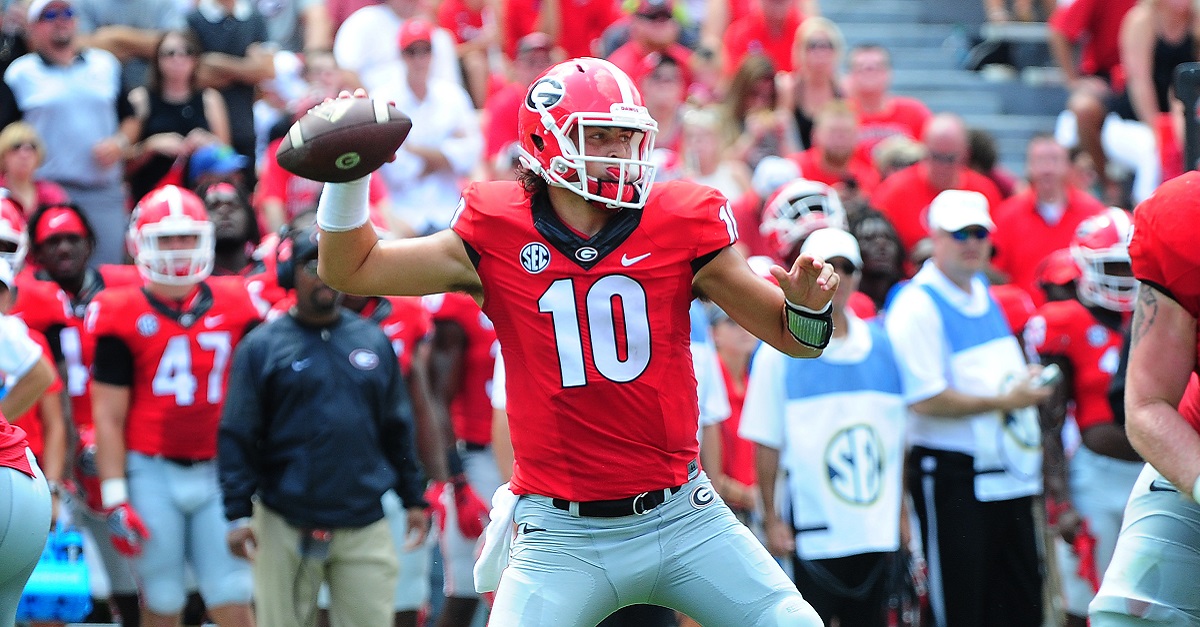 Scott Cunningham/Getty Images
ATHENS, GA - SEPTEMBER 10: Jacob Eason #10 of the Georgia Bulldogs passes against the Nicholls Colonels at Sanford Stadium on September 10, 2016 in Athens, Georgia. (Photo by Scott Cunningham/Getty Images)
Georgia quarterback Jacob Eason took over the starting job as a true freshman last year, and he has been expected to be the starter for the 2017 season.
However, Bulldogs coach Kirby Smart said on the Paul Finebaum Show that incoming freshman Jake Fromm is challenging Eason for the starting position.
RELATED: Yet another Georgia quarterback has reportedly left the program 
"(Eason's) also got a little competition going as well this spring with a young man by the name of Jake Fromm," Smart said. "That part has helped as well. I think it's been good to have Jake in meetings, and (Eason) realizes, 'Hey, this kid is coming up on my tail pretty quick.'

"Fromm's a good leader. He runs the offense well. He's done a good job in the locker room. I think Jacob (Eason) has felt the push from Jake (Fromm). Jacob's done a lot of things well this spring early on. (Eason's) got great velocity on his throws, confidence in the system to make the throws. He's changed some plays and done some really good things. We're expecting him to play at a much better level this year."
Eason threw for 2,430 yards, 16 touchdowns and eight interceptions last season as a freshman. Fromm was a four-star QB and the No. 3 pocket passer in last year's recruiting class according to 247Sports.
Eason will likely be the starter next season, but it appears as if he has some competition for the job.
(h/t The Spun)