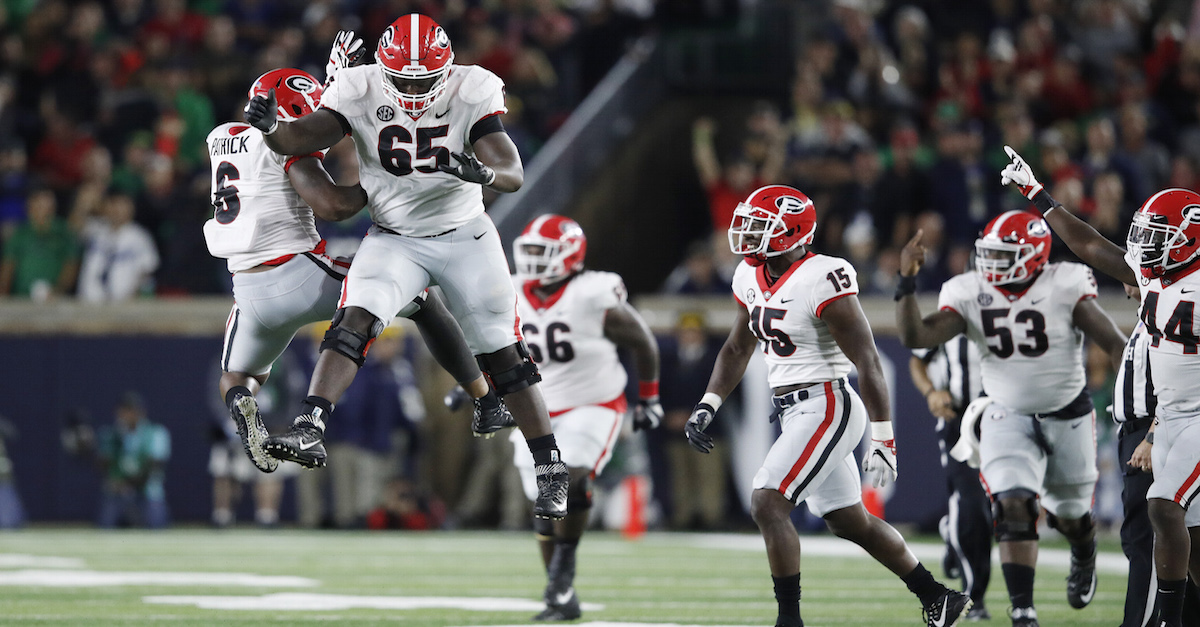 Joe Robbins/Getty Images
SOUTH BEND, IN - SEPTEMBER 09: Kendall Baker #65 and Natrez Patrick #6 of the Georgia Bulldogs celebrate in the fourth quarter of a game against the Notre Dame Fighting Irish at Notre Dame Stadium on September 9, 2017 in South Bend, Indiana. Georgia won 20-19. (Photo by Joe Robbins/Getty Images)
Georgia linebacker Natrez Patrick was reportedly arrested hours after the Bulldogs' dominant 28-7 victory over Auburn in the SEC Championship Game.
On Sunday, UGASports.com reported that Patrick faced a misdemeanor charge following his arrest on Saturday night, but didn't divulge into details.
According to 11Live News, the misdemeanor was for marijuana possession and the junior linebacker was released from custody after paying a "small fine," according to the station's report.
Patrick, who is the Bulldogs' starting middle linebacker, has been arrested three times during his college football career, all of which have been for marijuana.
Per UGASports.com:
The junior was arrested in Barrow County late Saturday night on an unspecified misdemeanor charge, according to the Barrow County online jail report. Bond was set at $1,030.
The arrest took place at 11:50 p.m. but no other details were available and Georgia officials have yet to comment. A spokesman for the Barrow County Detention Center declined comment and said to call back during business hours on Monday for more information.
The junior had previously been arrested for possession of marijuana in October, as well as in 2015. He was also cleared after being investigated for allegedly having marijuana in his dorm room last October.
Patrick's last arrest resulted in a four-game suspension that was based on Georgia's student athlete handbook.
The starting middle linebacker recorded three tackles during Saturday's win, as well as 35 total tackles and 2.5 for loss during the 2017 season.