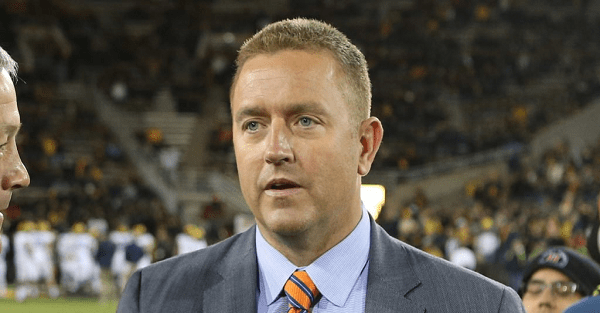 @SportsRadio_740/Twitter
@SportsRadio_740/Twitter
When it comes to the College Football Playoff, Georgia's offense may be its best defense, at least according to ESPN's Kirk Herbstreit.
In an exclusive interview with Dawgs247, Herbstreit said it will be up to Georgia's offense to keep Oklahoma's offense and Heisman favorite quarterback Baker Mayfield off the field.
?Really I think the story of Jake Fromm and the Georgia offense, that ultimately could be the best defense against Baker — is to try to keep him on the sideline,? Herbstreit said in Atlanta earlier this week. ?Because I think Georgia, offensively, no one really tends to talk about that side of the ball. They?ve got great balance and potential and Oklahoma at times has played well and other times they?ve been very vulnerable. I think Georgia?s offense has a chance to be a big factor in that game.?
That means the Bulldogs will need to rely on star running backs Nick Chubb and Sony Michel to lead their rushing attack and chew up the game clock. Georgia ranks No. 10 overall in yards per carry (5.8) among FBS teams, as well as 11th in rushing yards with an average of 268 per game, having only been held under 200 twice in 2017.
But the Bulldogs defense will ultimately have the difficult task of stopping Mayfield. Fortunately, Georgia ranks No. 2 in pass defense, No. 3 in scoring defense and No. 4 in total defense among FBS teams, which will likely give the quarterback his toughest challenge of the season.
?That?s the matchup maybe of the whole bowl season, is watching Baker and that offense, scoring right now I keep saying like a video game,? Herbstreit said. ?And here comes an SEC defense, and as you guys know Oklahoma is never short on opinion about how well the Big12 can compete against the SEC. I think it will make for a lot of fun, a lot of build up. Athletically I think this?ll be the toughest defense he?ll face. Roquan Smith and the whole attitude of that defense I think is outstanding.?
If Georgia can keep Mayfield off the field and control the clock then you can certainly believe the Bulldogs have a strong chance to win the game.