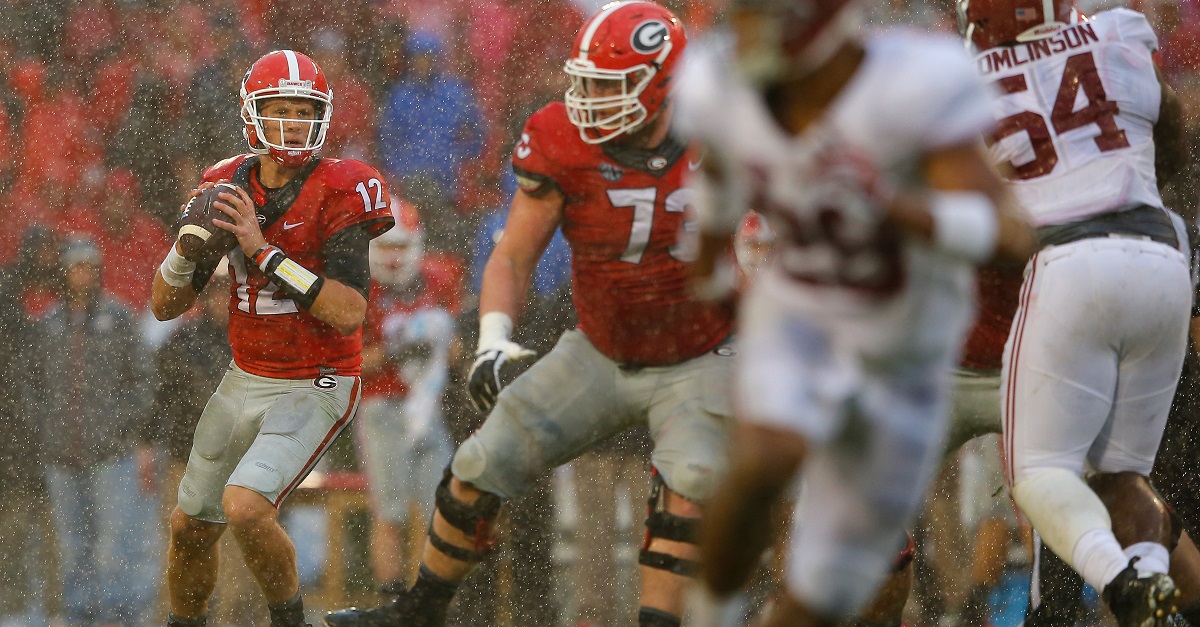 Kevin C. Cox/Getty Images
ATHENS, GA - OCTOBER 03: Brice Ramsey #12 of the Georgia Bulldogs looks to pass against the Alabama Crimson Tide at Sanford Stadium on October 3, 2015 in Athens, Georgia. (Photo by Kevin C. Cox/Getty Images)
The Georgia Bulldogs and fans have suspected for a few months now that quarterback Brice Ramsey might be on the way out with Jacob Eason holding on tightly to the reins of the offense for the next two years and that Mike Bobo is gone. That would seem to be the case as he told Dawgs247:
"I have enjoyed my years at UGA, the bonds I have made with the coaching staffs as well as the numerous friendships with my teammates will last a lifetime and will continue to help guide me with decisions and future endeavors. I will never look back on my time at UGA with regrets, I have loved every minute of my time here. However I understand the meaning of living life with no regrets so after a talk with my family over spring break I have decided to try and play my last year at another institution. I thank Coach Kirby Smart for the advice he has given me and the way he guided me from the moment he arrived on campus. I wish him, the coaching staff and the players nothing but the best and will forever cheer for them. Go Dawgs!!"
Bobo was the one who was trying to groom Ramsey, but when he left for Colorado State so did Ramsey's chances of starting. Virginia grad transfer Greyson Lambert took over starting duty in 2015 and then Eason took over last season. Ramsey will be eligible immediately wherever he goes as he plans to graduate in May before transferring.
RELATED: Georgia sophomore playmaker arrested late Saturday night
Ramsey was the heir apparent at the time Hutson Mason graduated, but he ended up becoming the punter instead. In fact, he punted 45 times for 1,741 yards, averaging 38.7 yards. As a QB, he appeared in 24 games over his career, attempting 74 passes and completing 45, for 582 yards. He had four touchdowns and four interceptions.
[h/t Dawg Nation]