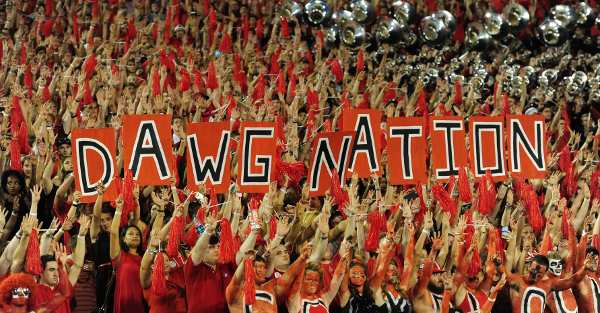 ATHENS, GA - SEPTEMBER 19: Fans of the Georgia Bulldogs celebrate after a score against South Carolina Gamecocks on September 19, 2015 in Atlanta, Georgia. Photo by Scott Cunningham/Getty Images) *** Local Caption ***
RELATED: This is the insane list of demands Ludacris handed out to UGA, along with the massive payment he took home for performance
---
After paying rapper Ludacris $65,000 for a spring game performance, Georgia Athletic Director Greg McGarity apologized for giving in to the demands the school has since been criticized for.
?I do want to take this opportunity to apologize to our board for mistakes we made with certain aspects of the details of an entertainment agreement,? McGarity said, according toThe Athens Banner-Herald. ?Few things in my professional life have bothered me more than this situation. There are no reruns in life so we need to turn the page, learn from our mistakes and do everything we can to make sure errors of this nature do not reoccur.?
Along with the cash payout, Ludacris' ridiculous list of demands included one box of Trojan Brand condoms, two bottles of Conjure Cognac (a brand that Ludacris owns) and two packs of AA and AAA batteries.
The spring game in question brought out an estimated 93,000 fans to Sanford Stadium–a spring game record.
It's safe to say Luda brought out the Southern Hospitality in UGA, even if they regretted it later.