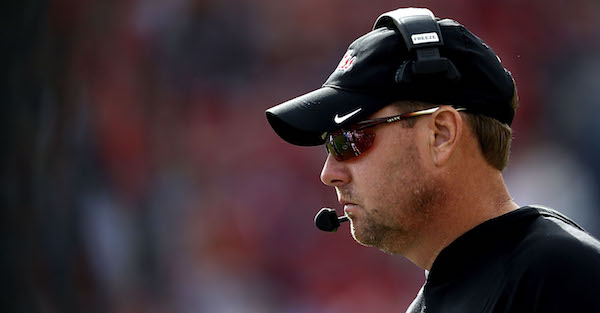 Jonathan Bachman/Getty Images
OXFORD, MS - NOVEMBER 05: Head coach Hugh Freeze of the Mississippi Rebels reacts during the first half of a game against the Georgia Southern Eagles at Vaught-Hemingway Stadium on November 5, 2016 in Oxford, Mississippi. (Photo by Jonathan Bachman/Getty Images)
The Ole Miss Rebels have been in the cross-hairs of the NCAA for five years and, on Friday, the hammer came down from the governing body when it comes to punishments. As a result of what transpired under the watch of now-departed head coach Hugh Freeze, Ole Miss was hit with three years probation, an additional bowl ban, a 13-scholarship reduction and a hefty financial penalty, with Freeze himself receiving a show-cause penalty and a suspension.
In the aftermath of the highly publicized ruling, Freeze responded with a statement on behalf of his actions.
As noted above, Freeze had the following to say about disappointment in the rulings concerning failure to monitor his staff:
"While I appreciate the COI's recognition of my compliance efforts, I am disappointed that the CIO found that, in some instances, I failed to monitor my staff appropriately. I believe I made every effort to do so. Yet, I am encouraged that the CIO found the failure to monitor was a mitigated violation based on, among other things, my personal record of compliance with NCAA rules."
Freeze also non-coincidentally points out the specifics of his show-cause, presumably in an effort to remind potential employers of what he would be eligible to do. At the end of the day, Freeze was never going to like the sanctions but, in short, one's feelings on the overall ruling probably have a lot to do with the same feelings about the head coach in question.