Kentucky basketball has a long and storied history being the winningest D-I basketball program in NCAA history, has eight National Championships, five runner-up finishes and 17 Final Four appearances. Kentucky football however, does not have nearly as rich a history. The team has no titles to speak of and has gone 8-6 all-time in bowl games despite being around since the 1800s. However, the Wildcats are all about revisionist history and are awarding themselves the national title for 1950 because there's nothing people care about more than a claimed national title no one else will give UK.
RELATED: Kentucky just did this for the first time in three years
There's nothing quite like making up a national title to say you won one in a time that 18 and 19-year olds don't care about at all. Good for you, Kentucky. Keep trying to win over recruits in the SEC by showing off a trophy that you had made up for the sole purpose of showing off a championship that only the Sagarin polls gave them. Here's the crystal ball they made up just for the occasion.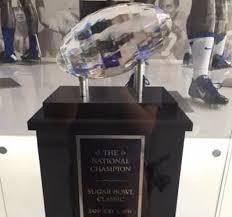 (photo via NOLA.com's Ron Higgins)
That same year, Oklahoma was named the champion by six different polls, including the AP which was the most respected at the time. The Sooners suffered their only loss that year to the "Bear" Bryant-led Wildcats in the Sugar Bowl. Kentucky still finished No. 7 in the AP and UPI polls that season so naming themselves national champions seems a bit out of place.
Enjoy all things sports?
Don't miss a story! Sign up for daily stories delivered to your inbox.