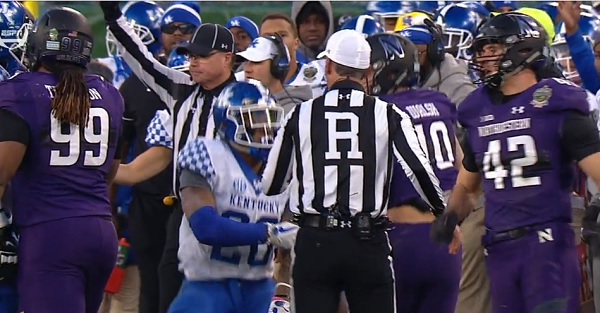 Clippit/Screenshot
This is not what college football fans want out of their bowl games.
In the first half of the Music City Bowl against Northwestern, star Kentucky running back Benny Snell was ejected from the game after making contact with an official.
Here is the contact that Snell made with the official.
It looks like the official might have been trying to help Snell up, or even maybe just putting his arms out to prevent Snell from rolling into him after the play. Snell didn't want any part of it, and the ref threw the flag and the ejection was made. Even the ESPN commentators weren't sure about that one.
Obviously sports are very protective of their officials, but this one seems like a very light situation that should not have resulted in an ejection. Kentucky will now have to operate the rest of the game without Snell, who rushed for 1,300 yards and 18 touchdowns in the regular season.