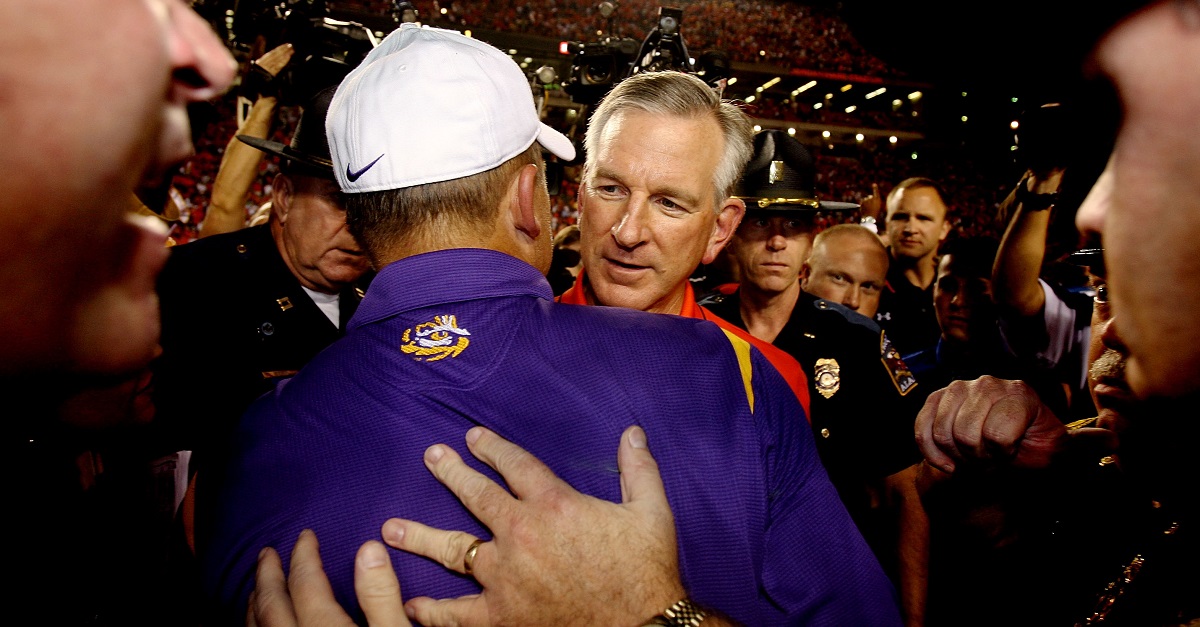 Doug Benc/Getty Images
AUBURN, AL - SEPTEMBER 20: Head coach Les Miles of the LSU Tigers is congratulated by head coach Tommy Tuberville of the Auburn Tigers after LSU's victory at Jordan-Hare Stadium on September 20, 2008 in Auburn, Alabama. (Photo by Doug Benc/Getty Images)
Tommy Tuberville has seen many different college campuses in his time as a college football coach and has even been overseas thanks to his job. In particular, he went to Iraq as part of a goodwill tour with other coaches in 2008. So he knows a thing or two about arid and dry landscapes.
RELATED: Tommy Tuberville has reportedly made a decision on running for Governor of Alabama
He went so far as to compare Iraq to another stop on his coaching tour when he was interviewed on the Rick and Bubba Show.
"You run me off at Auburn and you ship me to Lubbock, Texas," Tuberville said. "I'm going to tell you what, that's like going to Siberia. Somebody asked me, 'What's Lubbock look like?' It looked like Iraq."
He spent three seasons in Lubbock and ended up with a 20-17 record before moving to Cincinnati where he went on a four-year run with a record of 29-22. He got his first head coaching gig at Ole Miss from 1995 to 1998 and then he moved on to Auburn where he ran up an 85-40 record including winning seven out of ten against Alabama.
[h/t Sporting News]