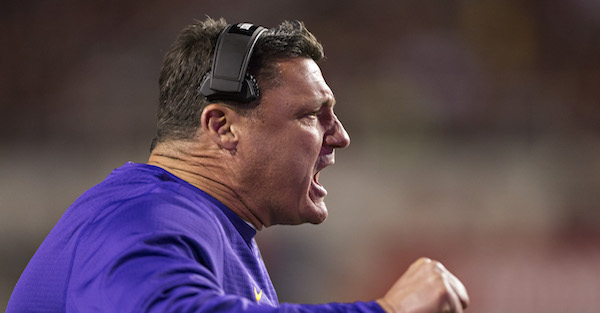 Wesley Hitt/Getty Images
FAYETTEVILLE, AR - NOVEMBER 12: Head Coach Ed Orgeron of the LSU Tigers on the sidelines in the first half of a game against the Arkansas Razorbacks at Razorback Stadium on November 12, 2016 in Fayetteville, Arkansas. (Photo by Wesley Hitt/Getty Images)
Tony Barnhart, a writer and broadcaster for the SEC Network, detailed the job Ed Orgeron has done since taking over at LSU after Saturday's win over Arkansas. If Orgeron can lead the Tigers on their current path to a Sugar Bowl appearance, Barnhart says only Jimbo Fisher or Tom Herman saying yes to the LSU gig should hold the school back from hiring the Baton Rouge native as the full-time coach.
After dropping a demoralizing 10-0 loss to Alabama, the Tigers bounced back to beat Arkansas and now are in prime position to contend for a Sugar Bowl spot if they can beat Florida and Texas A&M.
While the school is reportedly "up in the air" on whether to hand him the job, 72 percent of a polled 350 LSU fans believe Orgeron should stay put:
After the strong bounceback game, Orgeron needs a few more key wins to really make a statement.