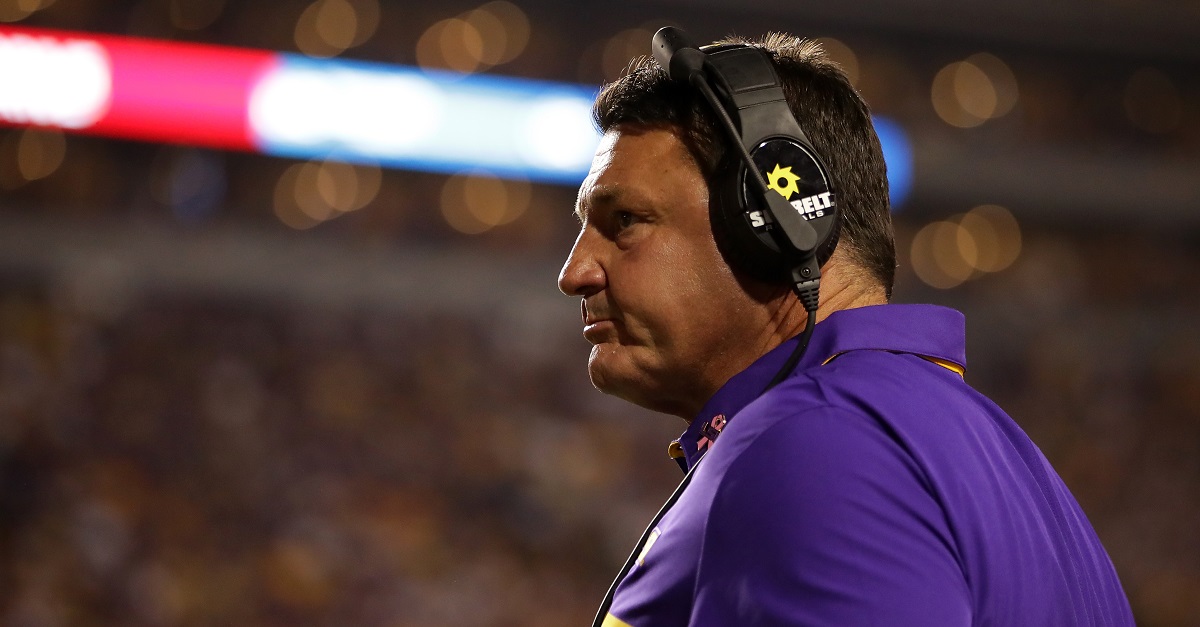 Chris Graythen/Getty Images
BATON ROUGE, LA - OCTOBER 01: Interim head coach Ed Orgeron watches the game against the Missouri Tigers at Tiger Stadium on October 1, 2016 in Baton Rouge, Louisiana. (Photo by Chris Graythen/Getty Images)
LSU coach Ed Orgeron is already on the hot seat following a Week 3 loss to Mississippi State, according to one media pundit.
On Sunday, Outkick the Coverage's Clay Travis wrote a column on the Tigers' loss and what it means for Orgeron's future in Baton Rogue:
"What this loss does, to me, is it puts Coach O. on the hot seat. Some of y?all may think I?m crazy for saying this, but I think the low salary and limited buyout gives LSU no loyalty to Orgeron.

If LSU goes 8-4 or worse, which certainly looked possible last night, I think LSU will try to make a move to get a better coach.

And I think that?s the right decision.

Can you imagine what Nick Saban is going to do to this LSU team?"
While in most cases I would chalk this up to Travis, an obvious click-bait writing troll, making an attempt to spew out "hot takes," it's actually a surprisingly valid argument.
Orgeron, despite making an impressive run as the Tigers' interim coach last season, was not LSU's first choice and has been presumed to have a short leash in his first official season as head coach.
Still, it's only one loss to a Mississippi State team that now looks like the second-best team in the conference with Saturday's victory. Perhaps it's too early to be putting Orgeron on the hot seat. I mean, it is just Clay Travis' opinion, so it's about as valuable as Monopoly money.