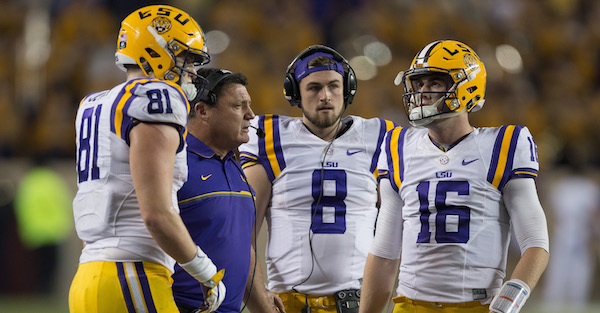 Bob Levey/Getty Images
COLLEGE STATION, TX - NOVEMBER 24: Head coach Ed Orgeron of the LSU Tigers talks with Colin Jeter #81, Caleb Lewis #8 and Danny Etling #16 in the second half at Kyle Field on November 24, 2016 in College Station, Texas. (Photo by Bob Levey/Getty Images)
LSU fans have been wondering all summer who the starting quarterback for 2017 might be and it looks like they finally have an answer. Coach Ed Orgeron officially named the starter and he's got a familiar face.
Etling threw 11 touchdowns against five interceptions last season while completing 59.5 percent of his passes and averaged 193 yards passing per game. There was talk about Justin McMillan or Lindsey Scott Jr. taking over the starting spot until the latter decided to transfer out of the program.
Freshman Myles Brennan and Lowell Narcisse had a shot as well, but it was going to be hard to overcome the experience ahead of them. They will likely get groomed for next year though after Etling is gone and graduated.