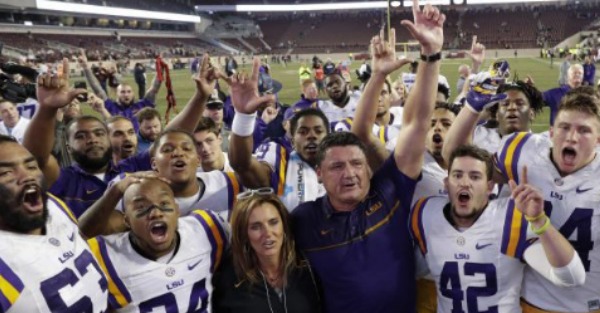 NBC via Twitter Screen Shot
This says it all:
Jubilant players in the LSU locker room erupted in a chant of "Keep coach O!" following the Tigers' big 54-39 win on Thursday night. The victory was even more impressive because it came on the road against a very tough Texas A&M (8-3) team that entered the game ranked No. 22 in the AP poll.
Coach O, of course, is interim coach Ed Orgeron. LSU improved to 7-4 on the season, and 5-2 under Coach O. Despite reports that Jimbo Fisher turned down the job and Houston's Tom Herman is close to accepting it, the players have warmed to Coach O. Big time.
RELATED: Tom Herman responds to all the coaching rumors in an uncomfortable ESPN interview
Orgeron has been impressive and righted the ship at LSU after the team started 2-2 and fired head coach Les Miles in September.  Since then, the Tigers only loses have been to top ranked Alabama (by 10 points) and SEC east champ Florida (six points).
LSU was expected to be a playoff contender and was ranked No. 5 in some preseason polls. The Tigers entered the game against Texas A&M ranked No. 25 in the AP poll.