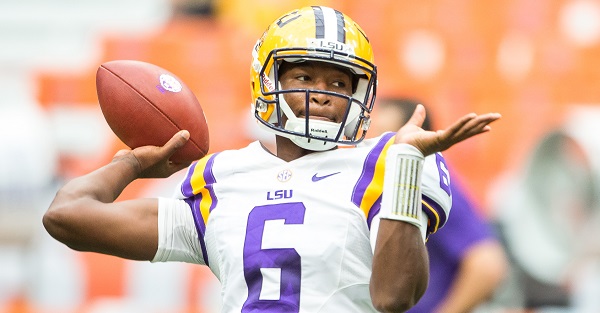 Brett Carlsen/Getty Images
SYRACUSE, NY - SEPTEMBER 26: Brandon Harris #6 of the LSU Tigers warms up before the game against the Syracuse Orange on September 26, 2015 at The Carrier Dome in Syracuse, New York. (Photo by Brett Carlsen/Getty Images)
Former LSU quarterback Brandon Harris is looking at schools for a transfer after getting benched in the middle of the 2016 season. He will be a graduate transfer so he can play right away and will not have to sit for a year. And it looks like he's got at least one visit set up as of now.
RELATED: Brandon Harris won't rule out a transfer to in-conference schools

While that tweet doesn't specify which school he might be referring to, he actually told the New Orleans Times-Picayune that he will be visiting North Carolina that weekend. The Tar Heels could be the perfect landing spot as they lost Mitch Trubisky to the NFL Draft and may need a quarterback to hold them over a year while they develop their younger QBs.
Harris said last month he had "two final possibilities" for a transfer destination, but it seems that list has grown as he also told the paper that he is considering visits to Texas and Arizona as well. After starting all 12 games in 2015 for the Tigers, Harris started the first two games of this past season. He lost his job to Danny Etling prior to Week 3 and never regained it, thus prompting his transfer.
[h/t College Football Talk]