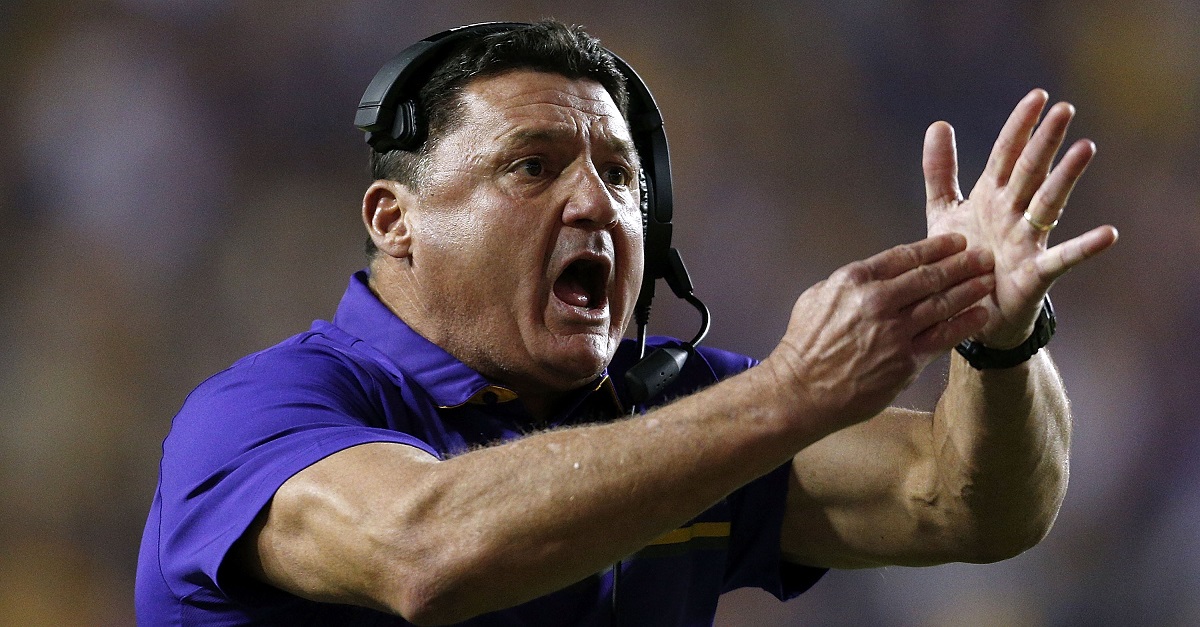 Jonathan Bachman/Getty Images
BATON ROUGE, LA - OCTOBER 22: Head coach Ed Orgeron of the LSU Tigers calls a timeout during the second half of a game against the Mississippi Rebels at Tiger Stadium on October 22, 2016 in Baton Rouge, Louisiana. (Photo by Jonathan Bachman/Getty Images)
One of the premier games of the Week 1 college football slate could be in danger as BYU and LSU were set to meet in NRG Stadium in Houston. However, Hurricane Harvey could derail those plans as there is severe flooding and the hurricane has reached a category 4, which means the winds are 130 miles per hour or more.
The game is scheduled to kick off on Saturday, Sept. 2 and that is still the plan. However, the schools are talking over relocating the game for that day — BYU doesn't allow its student-athletes to play on Sundays. A source told SB Nation that both teams are committed to a relocation and have suggested Tiger Stadium in Baton Rouge as well as the Super Dome in New Orleans.
ESPN ultimately owns the rights to the game as the AdvoCare Texas Kickoff is one of their subsidiaries. They will listen to the suggestions from the schools, but get to make the last call on where the game will ultimately be played.