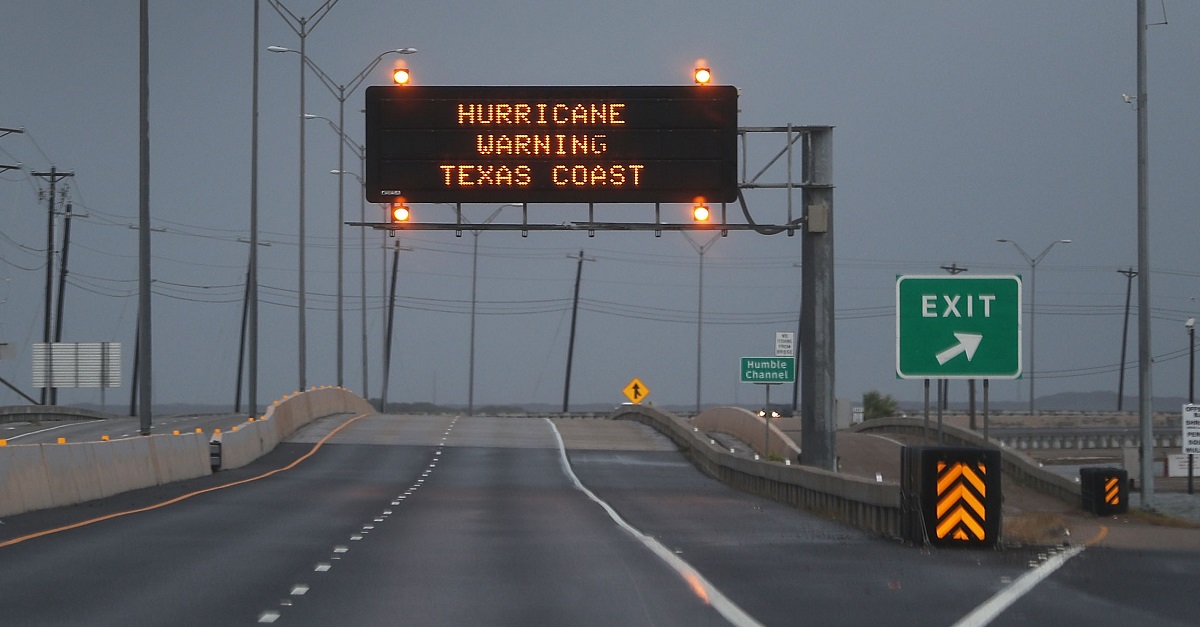 Joe Raedle/Getty Images
CORPUS CHRISTI, TX - AUGUST 25: A road sign warns travelers of the the approaching Hurricane Harvey on August 25, 2017 in Corpus Christi, Texas. Hurricane Harvey has intensified into a hurricane and is aiming for the Texas coast with the potential for up to 3 feet of rain and 125 mph winds. (Photo by Joe Raedle/Getty Images)
Hurricane Harvey is projected to make landfall on the Gulf coast of Texas on Friday evening, and officials for next week's LSU and BYU game in Houston are currently monitoring the situation to how it may impact their game at NRG Stadium.
While the game is a week away from the storm making landfall, current projections predict the storm to potentially hover and drop heavy rain around the coastal areas of Texas. The storm could drop as much as 30-inches of rain — or even more — in some areas.
The Houston area could be particularly vulnerable for the storm. While the city doesn't appear to be in line for a direct hit by the strongest parts of Hurricane Harvey, Houston has been prone to flooding recently, with storms already doing damage just a couple of weeks ago. The Houston area is currently projected to get as much as 20-inches of rain from the hurricane.
If the scheduled game between LSU and BYU is impacted, the two teams could be forced to shift to a new location or even attempt more drastic measures. LSU has already dealt with issues from a hurricane in the past year, as the Tigers were forced to move their scheduled game in Gainesville against Florida last year over fears from Hurricane Matthew.
LSU released this statement on the storm. (Via The Advocate)
First and foremost, our thoughts and best wishes are with our neighbors in South Texas and of course with our friends and family here in South Louisiana as Hurricane Harvey draws near. We know all too well the challenges of facing a storm of this magnitude and stand ready to assist in any way we can.

The season-opening football game against BYU in Houston September 2nd remains as scheduled. We are actively monitoring the situation in South Texas and will be in regular contact with Houston officials and NRG Stadium representative to fully assess conditions on the ground while keeping a close eye on developments here in Louisiana as the storm unfolds.
The game is currently schedule to air on ESPN at 8:30 on Saturday, September 2nd. The two teams have never played against each other before.