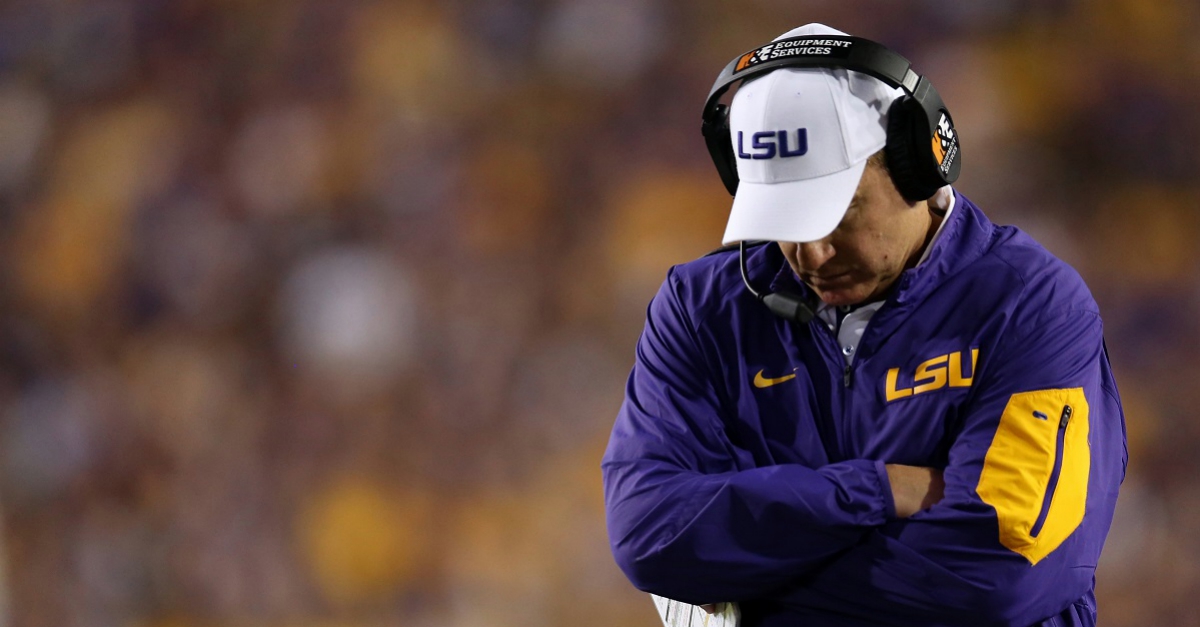 Chris Graythen/Getty Images
BATON ROUGE, LA - NOVEMBER 28: Head coach Les Miles of the LSU Tigers look on during the game against the Texas A&M Aggies at Tiger Stadium on November 28, 2015 in Baton Rouge, Louisiana. (Photo by Chris Graythen/Getty Images)
Les Miles had an illustrious college coaching career that was ended early by the LSU Tigers — perhaps a bit too early.
Miles, who's currently 64-years-old, was a big-time college football coach for 16 seasons, making his name down in Baton Rouge for his river-boat mentality, his affinity for eating grass and, of course, his ball cap.
He was known as the "mad hatter" and parlayed his personality into success on the recruiting trail, which ultimately led to success on the field for LSU. Miles led the Tigers to a BCS National Championship win in 2007 and led them back to the big game again in 2011 when they lost to Alabama.
Between the two championship games and even after, Miles positioned LSU as not just a powerhouse in the SEC, but a national powerhouse as well. The Tigers were always a primetime draw and one of the toughest teams in college football. They also sent multiple players to the NFL, so without a doubt, LSU was a success story under Miles.
That was until the 2014 season, though, when good became average in Baton Rouge — an 8-5 season with a bowl game loss. That was arguably the beginning of the end for Miles, who went on to lead LSU to just a 9-3 season in 2015 and a 2-2 record in 2016 before he was unsactimoiously fired and replaced by his defensive coordinator, Ed Orgeron.
Miles was cast away from LSU for his inability to keep the Tigers on top of the mountain, ironically done in by the standard of excellence he set for many seasons in Death Valley.
After a 16-year career coaching at a high level, it would make sense for Miles to hang up his trademark hat for good and ride off into the sunset, or at least to a TV studio, but there have been reports lately that Oregon State may be an interesting enough gig to attract the mad hatter and lure him out of retirement — a head coaching gig currently held by an interim coach — but even if Miles did want to coach again, is he worth taking a shot at for a head coaching position?
It may depend on which program we're talking about — Alabama would be downgrading from Nick Saban to Miles, for instance — but in the case of Oregon State, Miles would be a huge get as the head coach.
It's not like LSU completely fell off the map in Miles' final seasons, mind you. Sure, the Tigers got a big stagnant offensively and Miles seemingly lost his ability to win "the big game", but LSU was still a team that had to be taken seriously, the Miles never ever lost his touch on the recruiting trail.
Frankly, any school looking to make a move at head coach would be ignorant to not at least consider Miles, especially if he's interested in getting back into coaching.
Would Miles be a step up over Butch Jones for Tennessee? Absolutely. How about the Florida Gators? If you think he wouldn't be able to recruit the heck out of potentially the most football talent-rich state in the nation, you're crazy.
Miles never really lost "it" at LSU. He just overstayed his welcome, which happens all the time.
Perhaps he just needs one more chance to prove that he still has a few tricks up his sleeve.