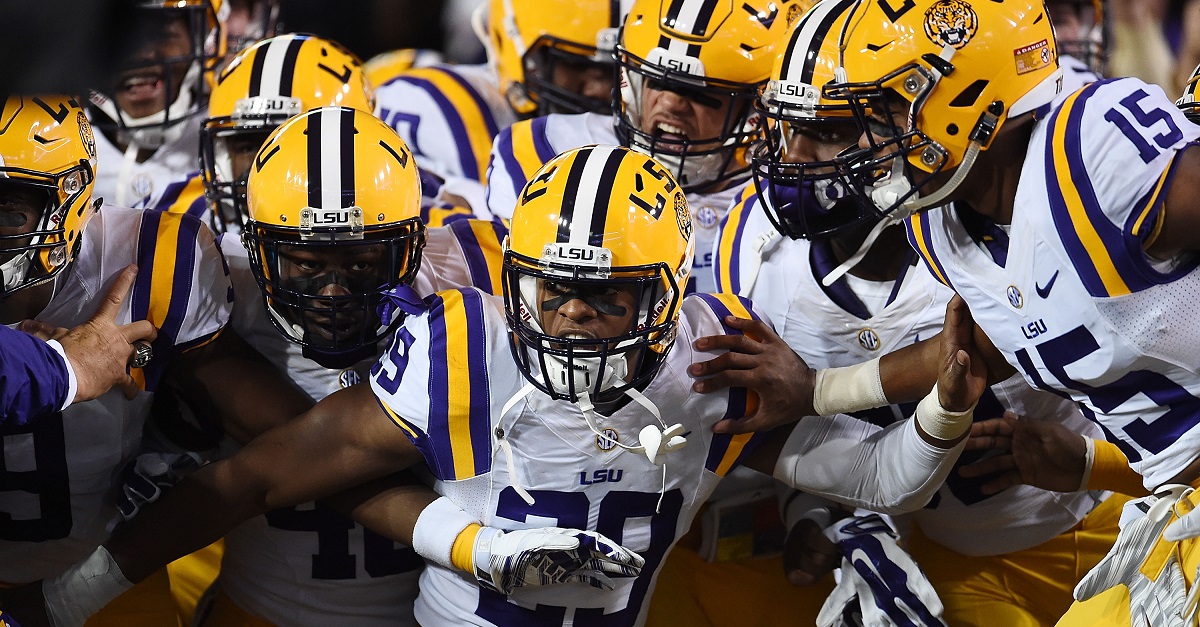 Stacy Revere/Getty Images
BATON ROUGE, LA - NOVEMBER 14: Rickey Jefferson #29 of the LSU Tigers prepares to take the field prior to a game against the Arkansas Razorbacks at Tiger Stadium on November 14, 2015 in Baton Rouge, Louisiana. (Photo by Stacy Revere/Getty Images)
LSU has been in contact with several coaches since firing Les Miles only a few games into the season. There have been rumors surrounding pretty much every hot name in coaching including Houston's Tom Herman, UNC's Larry Fedora and Florida State's Jimbo Fisher.
RELATED: CFB analyst says only two things should hold Ed Orgeron back from getting LSU gig
There's also been talk of keeping interim head coach Ed Orgeron on permanently since he's done so well with the team and the players have taken a pretty strong liking to him. However, athletic director Joe Alleva really likes one candidate outside of the program and has liked him since last season when Miles was rumored to be on the hot seat.
RELATED: Jimbo Fisher may have become LSU's head coach in 2004 if not for one thing
Florida State's Jimbo Fisher seems to be the No. 1 priority on Alleva's list and sources are telling NOLA.com that Alleva has been in communication with Fisher's representatives. His buyout is currently $5 million from FSU who just extended his contract through 2022 and it's worth $44 million.
"Jimbo was Joe's guy from the beginning, and I just don't see him passing on hiring him," a source close to the situation said. Alleva has also reportedly been in contact with UNC's Larry Fedora, but Alleva's preference is definitely Fisher.
Fisher has history with the school having worked as a QB coach and an offensive coordinator under Nick Saban and Les Miles until he was hired by Florida State where he eventually became the head coach.
[h/t NOLA.com]