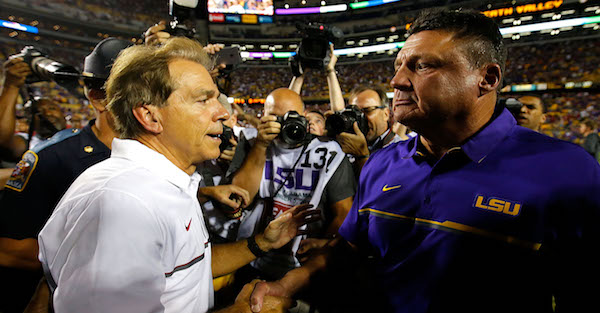 Kevin C. Cox/Getty Images
BATON ROUGE, LA - NOVEMBER 05: Head coach Nick Saban of the Alabama Crimson Tide shakes hands with head coach Ed Orgeron of the LSU Tigers after their 10-0 win at Tiger Stadium on November 5, 2016 in Baton Rouge, Louisiana. (Photo by Kevin C. Cox/Getty Images)
Ed Orgeron is still a serious candidate for the LSU head coaching job, per The Advocate.
According to the report, Orgeron was expected to have laid out a long-term plan if he is handed the job, and it could include the Baton Rouge native stealing away good friend and Alabama offensive coordinator Lane Kiffin.
According to the report, Kiffin is at the top of Orgeron's list of potential candidates. The move would also allow LSU to keep defensive coordinator Dave Aranda, securing top-flight recruiters and saving millions in the process.
Reports differ from Scout's Chip Brown, who reported Tom Herman is close to becoming LSU's next head coach.
The report comes days after it was noted that Jimbo Fisher had been extended a "substantial offer" from LSU. CBS Sports noted a deal could be in place as of Saturday, but did not specify if that deal would be for Herman, Fisher or another coaching candidate.
With Herman's Houston team wrapping up its regular season Friday afternoon, we may get a better idea of what is happening in Louisiana in the next few days.