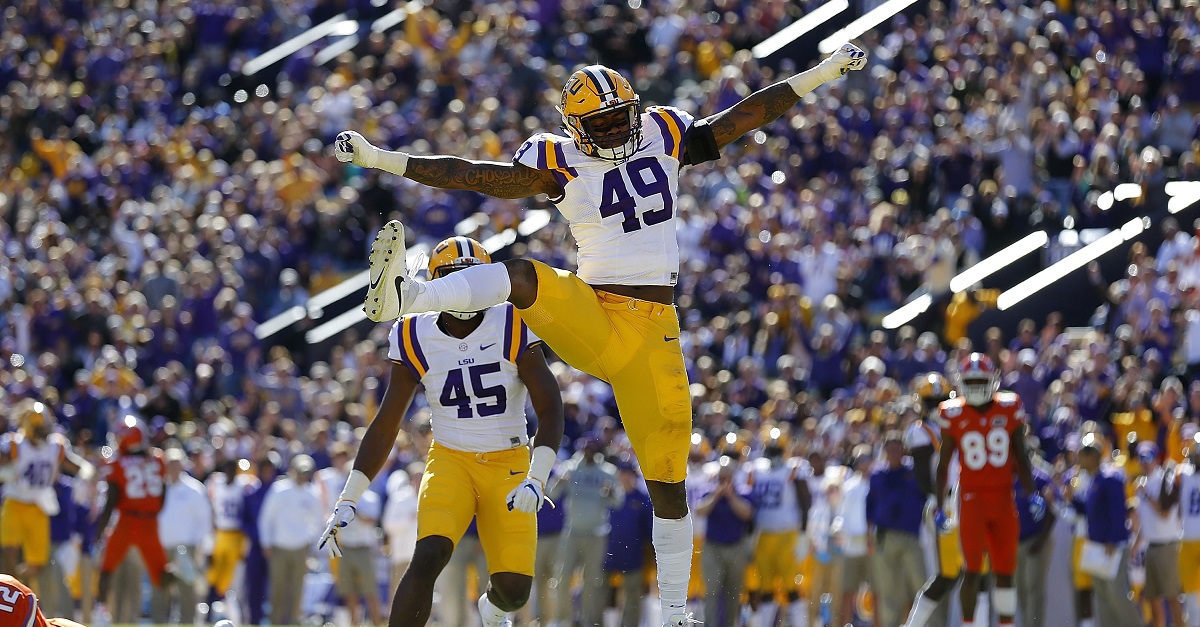 Jonathan Bachman/Getty Images
BATON ROUGE, LA - NOVEMBER 19: Arden Key #49 of the LSU Tigers celebrates a sack during the first half of a game against the Florida Gators at Tiger Stadium on November 19, 2016 in Baton Rouge, Louisiana. (Photo by Jonathan Bachman/Getty Images)
LSU is going hard at Florida State's Jimbo Fisher to become its next head coach, but does have a "Plan B" in place if Fisher decides he wants to stay in Tallahassee. Sonny Shipp of 247Sports is reporting that the Tigers have a backup list of candidates should Fisher become unavailable.
RELATED: LSU reportedly 'optimistic' about landing its top coaching choice
North Carolina's Larry Fedora, Colorado's Mike Macintyre, LSU's current coach in Ed Orgeron, Houston's Tom Herman and Virginia Tech's Justin Fuente are all on that list. It was believed that Orgeron would keep the job if he had beaten Florida and Texas A&M to finish the season.
RELATED: Report: Tom Herman "expected to move on" from major opening due to lack of interest
Herman's name is getting hot again after a huge upset win over former-No. 5 Louisville this past week while Fuente was a hot commodity last season before Virginia Tech hired and Macintyre has been a sleeper coach as the Buffs have been one of the better teams in the Pac 12 this season. Watch for Charlie Strong's name to surface as well when he is eventually let go by Texas.
[h/t SEC Country]