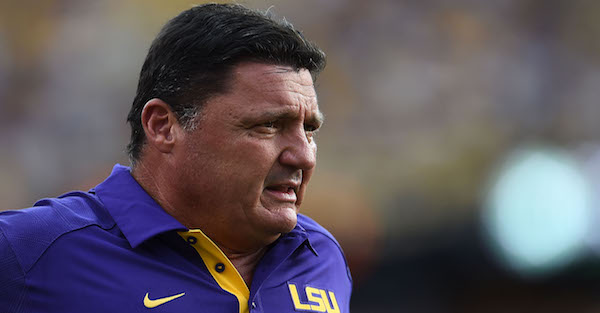 Stacy Revere/Getty Images
BATON ROUGE, LA - SEPTEMBER 05: Defensive line coach Ed Orgeron of the LSU Tigers watches action prior to a game against the McNeese State Cowboys at Tiger Stadium on September 5, 2015 in Baton Rouge, Louisiana. (Photo by Stacy Revere/Getty Images)
LSU and offensive coordinator Matt Canada have mutually agreed to part ways, head coach Ed Orgeron announced on Saturday.
"I want to thank Matt for his contribution here at LSU and wish him and his family the best," Orgeron said. "We have mutually agreed to part ways and go in a different direction offensively but are always grateful for the time and effort Matt made here at LSU."
Canada joined LSU's staff last offseason after being named a finalist for the Broyles Award during his one-year stint at Pittsburgh.
However, the Tigers struggled offensively in 2017, ranking ninth in scoring offense (27.2 points per game), eighth in passing offense (193.9 yards per game) and seventh in total offense (411.1) among SEC teams.
Canada had previously spent three seasons working as the offensive coordinator at NC State (2013-15), Wisconsin (2012), Northern Illinois (2011), Indiana (2007-10), Northern Illinois (2003) and Butler (1997), as well as several other stints as an offensive position coach.
Orgeron confirmed that he would immediately begin the process of finding Canada's replacement.
"We will identify a coach with a wealth of experience who is totally committed to the vision of the program and has the drive to do whatever it takes to see it through," Orgeron said. "We have a lot of talent coming up on offense. We want to put our players in the best possible position to succeed which means improving our vertical passing game and developing our quarterbacks and wide receivers to be at their absolute best."
LSU finished its season with a 21-17 loss to Notre Dame in the Citrus Bowl on Monday, as well as a 9-4 (6-2 SEC) overall record.