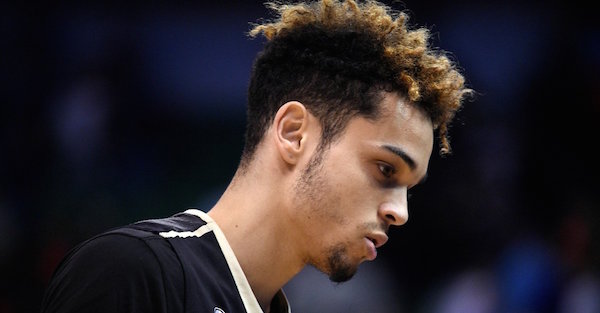 @MSN/Twitter
@MSN/Twitter
Vanderbilt senior guard Matthew Fisher-Davis announced that his college basketball career has come to an abrupt end due to a shoulder injury prior to Tuesday night's game at Tennessee via the Tennessean.
Fisher-Davis has missed each of the Commodores' last two games after experiencing a torn labrum and right shoulder subluxation during his team's 74-67 loss to Kentucky on Jan. 13.
Head coach Bryce Drew revealed that the guard underwent MRIs last week, as well as a medical evaluation on Sunday.
Fisher-Davis is scheduled to undergo shoulder surgery at Vanderbilt Hospital on Friday morning and is expected to need a six-month recovery period, which would delay plans of pursuing a professional basketball career for the time being.
"I obviously have time to reflect and see what I want to do next year," Fisher-Davis said. "This hasn't really hit me yet. I think it might hit when I wake up from the surgery on Friday. But I think about it being the end more and more every day."
Fisher-Davis, a 2017 All-SEC selection, traveled with the Commodores to Knoxville for Tuesday's game, but remained in street clothes while speaking to the media. The senior averaged 11.9 points and 5.1 rebounds in 16 games.
Fisher-Davis ends his career with 1,212 points — which is 30th in school history — as well as 269 made 3-pointers in 116 games.
"I didn't know where I was (in the record book), but my mom told me I was close to 300 3s," Fisher-Davis said. "That was a number I wanted to get to, but it just didn't happen."
Vanderbilt will face Tennessee at Thompson-Boling Arena on Tuesday night at 7:00 pm EST.