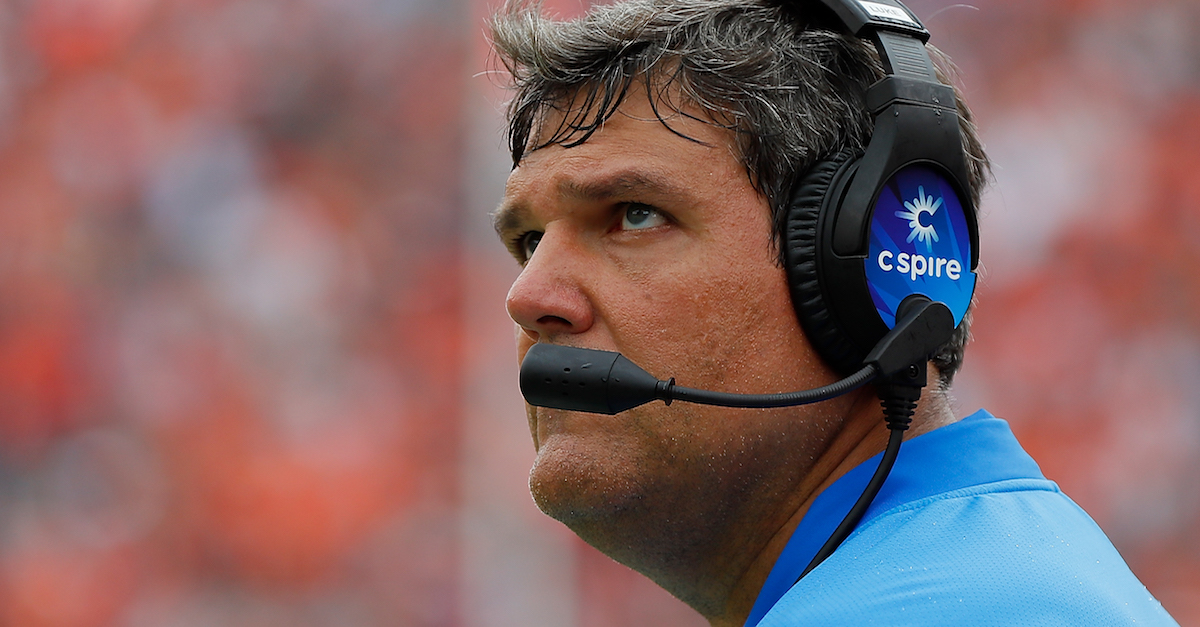 Kevin C. Cox/Getty Images
AUBURN, AL - OCTOBER 07: Head coach Matt Luke of the Mississippi Rebels looks on during the game against the Auburn Tigers at Jordan Hare Stadium on October 7, 2017 in Auburn, Alabama. (Photo by Kevin C. Cox/Getty Images)
Ole Miss interim head coach Matt Luke may want to start searching for a more stable coaching gig after the Rebels 44-23 loss to No. 12 Auburn on Saturday afternoon.
Not only did Mississippi lose pretty bad to the Tigers — allowing Auburn to put up 561 total yards of offense — but the Rebels are currently on a three-game losing streak. And with games against a game Vanderbilt squad, LSU, and then Arkansas coming up on the horizon, perhaps the Ole Miss brass is afraid that this losing streak will grow longer and longer.
At least that's the assumption because Ole Miss clearly doesn't believe that Luke is the man for the job.
Unless this is a joke or Ole Miss' website got hacked, the Rebels have already put out feelers for new head coaches. In fact, they even put a job posting on their website — and it sure seems legit.
This has got to be embarrassing for Luke, who lettered for four seasons at Ole Miss as a center, from 1995-1998. He started 33 career games as a Rebel and was even a team captain in 1998.
He's an Ole Miss guy through-and-through, serving as offensive line coach for the past five years before getting the call up to interim head coach, but perhaps he's in just a little bit over his head in this new role.
Keep in mind, Ole Miss was absolutely rocked by the Hugh Freeze scandal, as Blake Schuster of Dr. Saturday pointed out:
"It's also worth noting that Ole Miss self-imposed a bowl ban for this season back in February, so there wasn't too much motivation for his team heading into the season as it were. Things got even messier in July when then head coach Hugh Freeze had to resign in disgrace after it was uncovered he made calls to escort services via his Ole Miss phone. That's how Luke ended up with the interim tag."
The circumstances of Ole Miss' demise may just be too big for Luke to overcome. For those interested in applying for his job, follow this link.