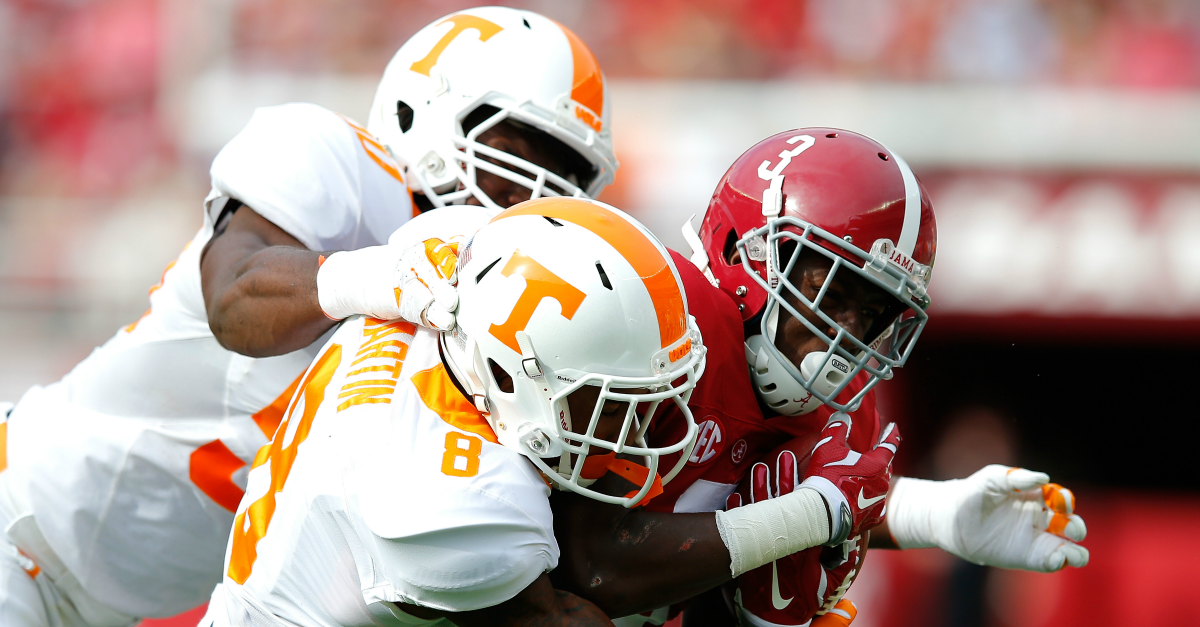 College football expert Phil Steele is in full prediction for the upcoming season. He is going in on the SEC and to no one's surprise has the Tennessee Volunteers winning the SEC East. He says they are "the most experienced" and "the most talented" team in the division. Here's his full thoughts on coach Butch Jones and his team:
"Butch Jones has said, 'we're a young team, we're a young team' for all three years. He can't say that this year. He's got 17 returning starters. They lose 16 lettermen, but they've got Joshua Dobbs back. It's a junior-senior team, and this is a Tennessee team that has the most experience in the East, and I think the most talented. I'm going with Tennessee to win the East."
Steele actually has two teams in the SEC West in a "tie for first" in what could be the toughest division in all of college football. Steele believes that LSU or Alabama could take the division this season and even says that it could come down to three teams with Ole Miss potentially upsetting the Tigers and Crimson Tide.
"I have a tie for first in the SEC West this year; I've got Alabama and LSU," Steele said. "In my power poll, I name Alabama as the most talented team in the country, but the top four teams in the SEC this year are Alabama, Mississippi, Tennessee, and LSU [no particular order].

"Alabama has to play each of the other three on the road. That's going to make it very difficult to run the table, but when you look at the Tide, the fact that they get back Jonathan Allen at defensive end, Reuben Foster at middle linebacker, Eddie Jackson [at corner] — three guys that could have gone to the NFL. That's huge. You look at them offensively, I don't think they'll miss too much of a beat even without Derrick Henry. I like Damien Harris, Bo Scarborough; they've won three of their last four national titles with a first-year starting quarterback; Calvin Ridley, Robert Foster in the receiving corps; O.J. Howard at tight end. It's a loaded Alabama team."
It's a good thing these teams actually have to play the games or we would have our division champs crowned already! Alabama playing those three teams Steele mentioned on the road will definitely be a tough gauntlet to run through and LSU does have Leonard Fournette at running back, which gives them a chance to win every game they play. Ole Miss will have superior QB play with Chad Kelly at the helm of the offense as well and has gotten the better of Alabama the past two seasons.
[h/t Saturday Down South]