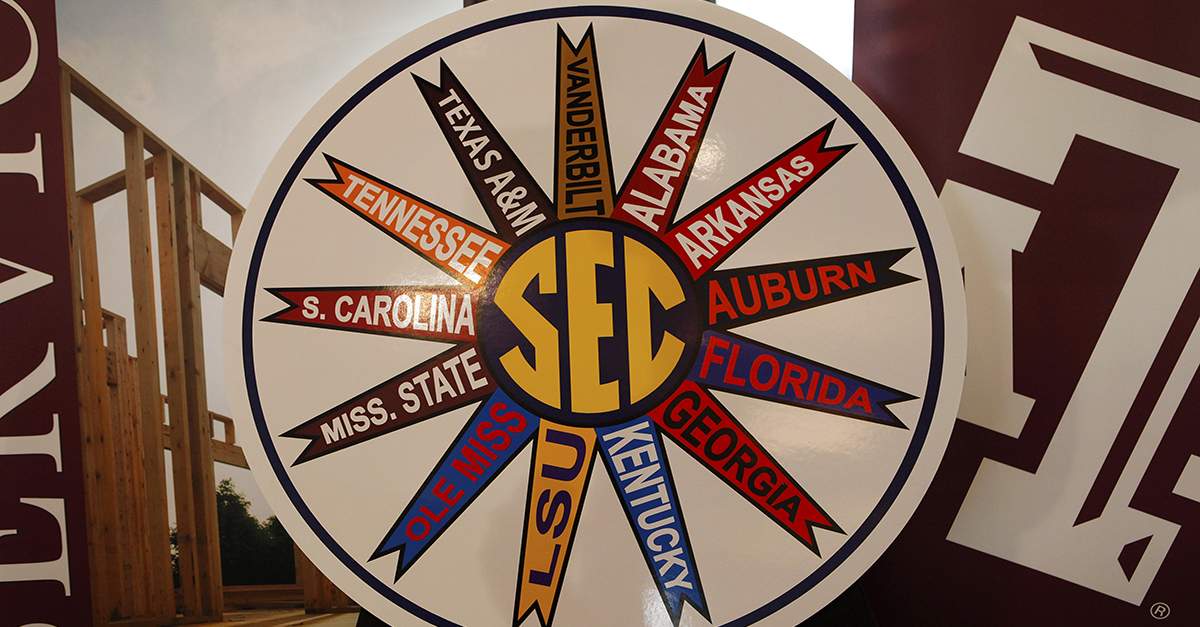 Aaron M. Sprecher/Getty Images
Gun ownership is one of the most divisive issues in the country. Ask enough people their opinions, and you'd probably end up split right down the middle.
The question of whether not coaches allow their players to own guns came up at a Southeastern Conference coaches teleconference this week, and some are taking a totalitarian stance on the issue—legal or not, players are prohibited from owning them.
?We do not allow any hand guns,? Kentucky head coach Mark Stoops said. ?I?ve made it very clear to them that I do not want them owning a hand gun, even if they have a legal permit for it…So, that?s my policy.?
Vanderbilt University head coach Derek Mason agreed, saying, "there isn't a need for it," and noted that he has been confronted with matters of gun ownership in the past when players have gone home for breaks between semesters.
Some coaches have had recent dealings with players and guns. Last week, Auburn head coach Gus Malzahn suspended junior defensive back Stephen Roberts after he was arrested for carrying a fire arm without a license.
"We don't want [Guns]," Malzahn said. "We don't want out players with them."
Back in June, Georgia head coach Kirby Smart dismissed freshman Chad Clay after he was arrested for possessing a weapon in a school zone. Smart avoided saying that guns are banned, but said schools having concealed carry permits "always concerns you." Florida head coach Jim McElwain suspended receivers Tyrie Cleveland Rick Wells for shooting a BB gun on the Gainsville campus.
Yet others, like Missouri head coach Barry Odom, recognize that banning players from owning guns is not so black and white. He noted that while his players are forbidden from owning handguns while they are on the team, hunting is an altogether separate issue.
"We've got policies within our program and obviously within the university on a number of things, and handguns would be one of those policies," Odom said on the teleconference. "You've got to make sure with the rules, and you mentioned hunting and some things like that, but if there's a handgun issue, then we deal with it and not allow it in the program."
RELATED: Florida players suspended for opener after shooting BB gun on campus
Arkansas head coach Bret Bielema takes a similar approach, suggesting that while he recognizes his school's campus-wide restriction on guns, he also realizes that some of his players have legal permits to carry.
?We do ask that those players (with legal gun permits) to make sure they follow all the policies the government has,? Bielema said. ?We also keep aware that even in the last two months there have been situations even in our own conference where guys have been caught in bad situations where they either did or intentionally or unintentionally get a bad situation out of that."
University of South Carolina head coach Will Muschamp said he also acknowledges SC's campus-wide gun ban, but also points out that his state does issue concealed carry permits. In all, just 4 SEC coaches said they have formal policies restricting their players from having handguns, while 10 coaches in all said they disagreed with the idea of players owning guns. Just two head coaches—Les Miles and Nick Saban—did not go on record about the gun ownership issue.