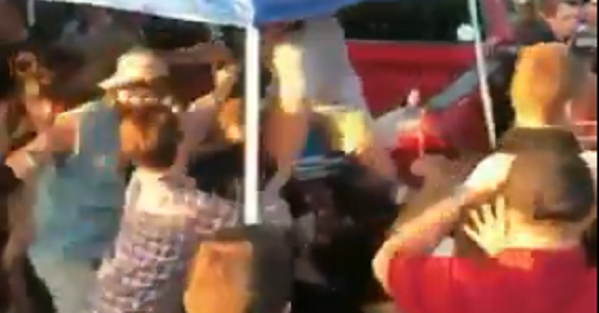 Twitter/@OldRowOfficial
The South Carolina Gamecocks were riding high as last weekend's game against the Kentucky Wildcats approached. For starters, the game was scheduled to take place in Columbia and, more than that, Will Muschamp's team began the 2017 campaign with victories over a Power-5 school in NC State and a conference foe (in decisive fashion) with Missouri.
However, that apparently was not enough to make everyone happy before the game even kicked off, as a massive fight was captured on video from a tailgate outside the festivities.
Needless to say, this probably was not an ideal omen for the game on the field and South Carolina fell at home by a 23-13 margin while seemingly taking a big step back from the previous two weeks. It should be noted that the allegiances of the parties involved on the video are not fully known (unless they are wearing team apparel, of course) and there is not a ton of information about any injuries or damage done.
Still, this is a pretty ugly display that took place a very short distance from an SEC stadium and that isn't an ideal look, regardless of what occurred on the field later in the day at Williams-Brice Stadium.