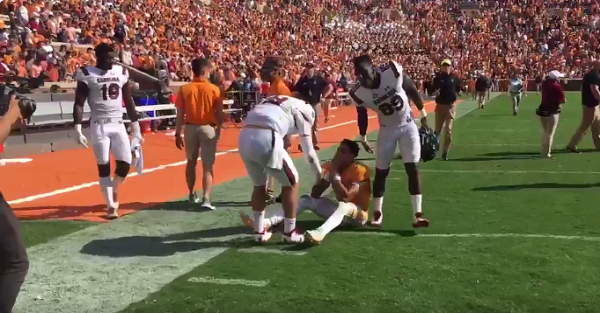 @Hale_SECCountry/Twitter
@Hale_SECCountry/Twitter
South Carolina quarterback Jake Bentley was praised for his sportsmanship after consoling Tennessee quarterback Jarrett Guarantano following the Gamecocks' 15-9 win over the Vols on Saturday.
Guarantano, who started for the first time in his college career, was visibly upset after falling short of a comeback during Tennessee's final drive of the game.
Bentley ran over to the redshirt freshman, helped him up off the ground and gave him a hug before running back to his teammates during the postgame celebration, as captured by SEC Country's Hale McGranahan.
During his postgame media session, the sophomore quarterback told reporters what he said to Guarantano during the encounter.
?It?s one game,? Bentley said. ?I told him to keep his head up. He had a heck of a game. He?s a heck of a player and he?s going to have a long career as a quarterback in this league, so you can?t get down after one game.
?Just keep his head up and move forward.?
Guarantano was appreciative of the gesture, relating back some kind words to Bentley during his own postgame media session.
?I was very upset. I remember Jake from when I was younger. We met, I think, freshman year of high school,? Guarantano said. ?He just was telling me, great game and it?s been a great competition, just keep my head up.
?I have a lot of props for him. ? I think that he?s great player and he?s going to continue to do great things.?