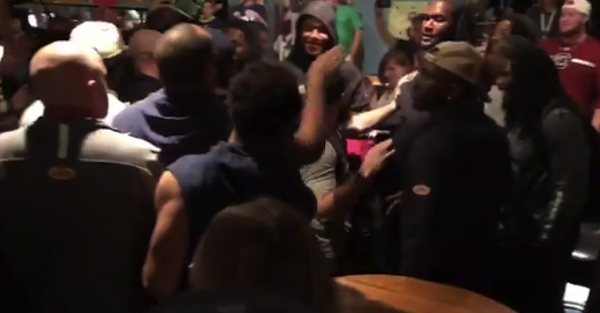 Twitter/@isaiahhole
With some other high-profile match-ups set to take place on New Year's Day, the Outback Bowl battle between the Michigan Wolverines and the South Carolina Gamecocks is not necessarily receiving a great deal of national attention. After the events of Wednesday night, though, there might be more of a microscope on the festivities from Tampa.
In short, a pre-game event featuring both teams at a local bowling establishment turned into something of a near throw-down, as members of the squads were captured jawing and exchanging unpleasantries in front of live cameras.
Of course, it has to be noted that no real physical scrum actually took place but it is definitely noteworthy when two Power 5 squads nearly square off in an off-field setting.
Jim Harbaugh and Will Muschamp have reputations for their no-nonsense approaches and, apparently, both teams are focused on this particular match-up to the point where temperatures are already running hot many hours before kick-off. The Wolverines are seen as Las Vegas favorites in the neutral field contest but, if nothing else, this should provide motivation for both parties and a bowl atmosphere that might be a little more intense than the average Big Ten versus SEC match-up in early January.