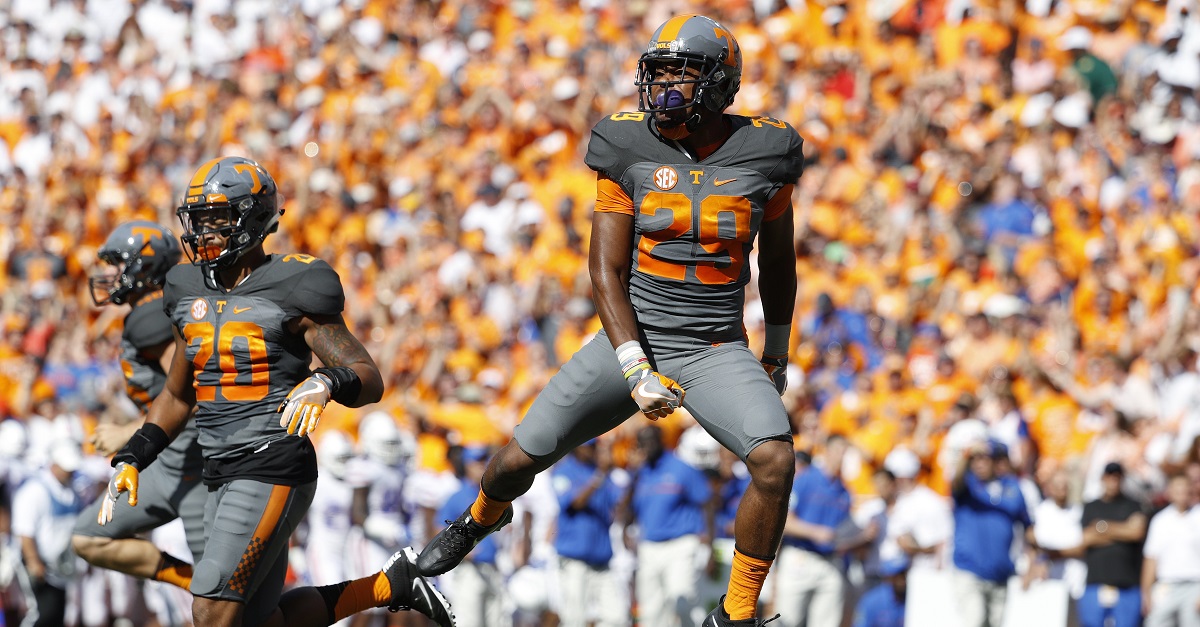 Joe Robbins/Getty Images
KNOXVILLE, TN - SEPTEMBER 24: Evan Berry #29 of the Tennessee Volunteers reacts after a fumble recovery against the Florida Gators in the first quarter at Neyland Stadium on September 24, 2016 in Knoxville, Tennessee. (Photo by Joe Robbins/Getty Images)
Florida Gators cornerback Quincy Wilson was heavy on the trash talking this past week leading up to the Tennessee game. He went so far as to guarantee a win over the Vols and gave us a strange idiom in doing so.
RELATED: Quincy Wilson starts the trash talking for the Gators ahead of the UT game
Wilson was backing up his talk of a duck never pulling a truck for the first half, but the whole team collapsed in the second half and that led to Tennessee's 38-28 win in Neyland Stadium. The talk of ducks and trucks made its way into the postgame interview on the field with Butch Jones and Josh Dobbs.
Dobbs earned his moment of trash talking and trolling too as he threw for 319 yards and four touchdowns on the day to go with 80 yards on the ground and a touchdown there too. He couldn't resist some duck talk either.
Tennessee's defense pulled it together after allowing 21 points in the first and only allowed a garbage time touchdown the entire second half. The Vols racked up 498 total yards and only allowed 102 yards from Florida in the second half — for a 402 total in the end.