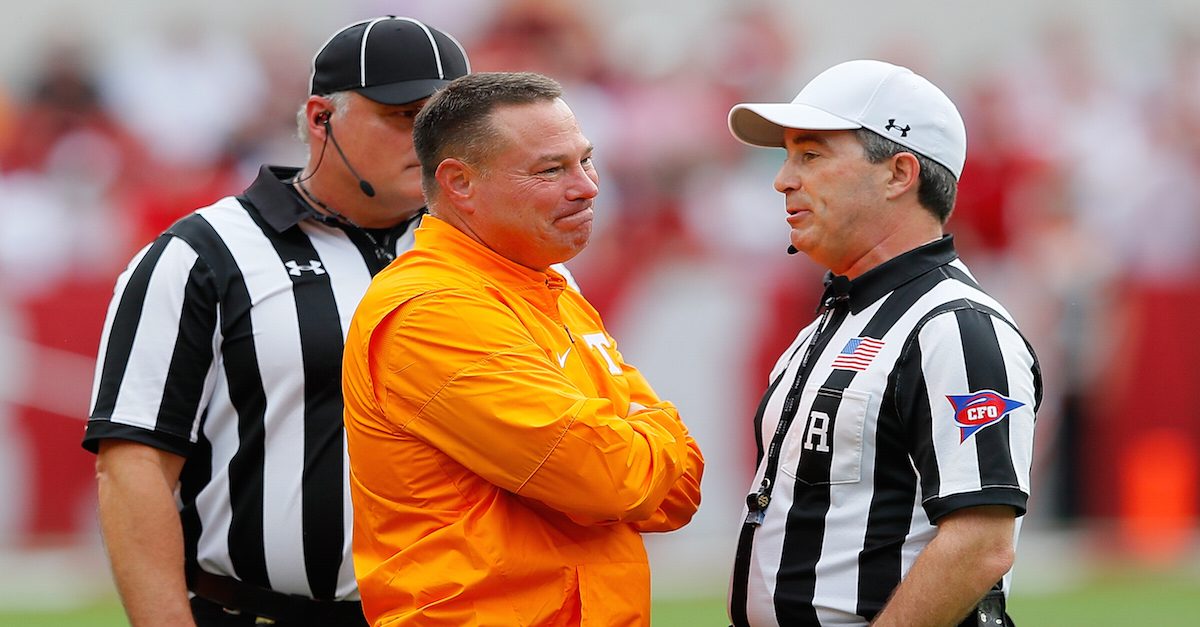 Kevin C. Cox/Getty Images
TUSCALOOSA, AL - OCTOBER 21: Head coach Butch Jones of the Tennessee Volunteers reacts to the officials during the game against the Alabama Crimson Tide at Bryant-Denny Stadium on October 21, 2017 in Tuscaloosa, Alabama. (Photo by Kevin C. Cox/Getty Images)
Former Tennessee coach Butch Jones spoke publicly for the first time since being fired last November during an interview with Sirius XM's ESPNU Radio on Thursday.
Jones commented on the Vols' historically bad season which, unsurprisingly, he blamed on just about everything except himself.
"It's a result-oriented business," Jones said on the ESPNU Radio appearance. "The last two years, I've never been a part of anything [like that]. This year, we had 29 concussions. We had 25 players out. Never been a part of anything like that. And we looked at everything, our practice structure. Most of them were game-induced injuries, and it was very, very unfortunate because I thought we had come a long way. And I'm proud of all our players and staff. But as you get ready for the next journey, you learn from some things and you get ready to move on. Already, I'm starting to get that itch."
Tennessee finished with a 4-8 overall record — the worst in program history — and went winless in SEC games. That followed two seasons in which the Vols failed to win the SEC East, despite a talented roster and easy road to Atlanta.
Jones finished his tenure at Tennessee with a 34-27 overall record, but went 14-24 against conference opponents. The Vols currently have a losing record against every SEC program entering the 2018 season.
FanBuzz's Take
UUUUUUUUUUUUUUUUGGGGGGGGGGGGGGGGHHHHHHHHHHHHH.
Why am I not surprised by this?
Tennessee had its worst season in program history and everyone is to blame except Butch Jones, according to Butch Jones.
But we shouldn't expect anything less from a man who spent five seasons deflecting blame and criticism at every opportunity.
I don't expect a coach to flat out admit they weren't qualified for their past job, especially one who has yet to find another position and is likely lobbying himself with each interview. But it's specifically in-character for Jones to make excuses.
A coach deserves at least part of the blame for an obscene amount of injuries. That doesn't just "happen," part of the problem is poor preparation and conditioning. And let's not act like it wasn't prevalent the previous season when a large amount of the roster was injured by the sixth game.
Additionally, Jones was never ever been a good x's and o's coach during his time at Tennessee. The Vols had enough talent to stay in games despite his so-called "infallible" offense, but ultimately choked when it counted. That was on Jones, who didn't know how to manage a play clock, call anything imaginative or put a quarterback under center on the goal line.
But what do you expect from a coach who has consistently thrown players under the bus and blamed the media members for a negative culture change? Jones was always thin-skinned and it became more obvious once his teams started losing.
That's why Tennessee is looking to bounce back from a historically bad season with a new head coach who isn't Butch Jones. Not injuries, not media members, not outside factors or anything else.
The blame is squarely on Lyle Allen "Butch" Jones, as it always deserved to be.