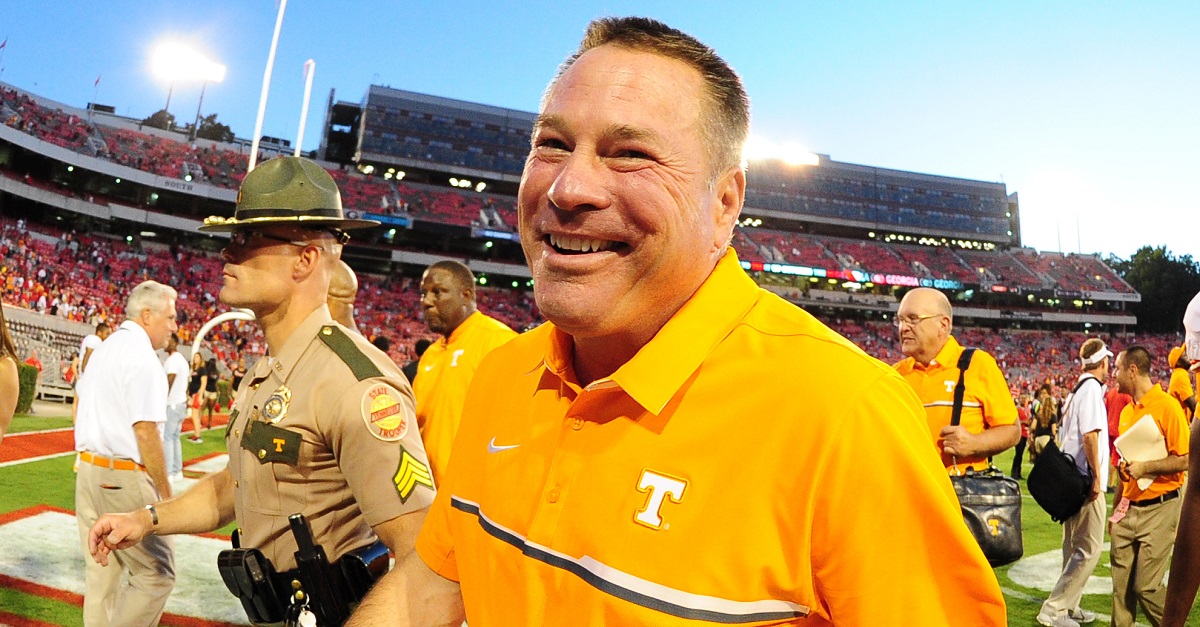 Scott Cunningham/Getty Images
ATHENS, GA - OCTOBER 1: Head Coach Butch Jones of the Tennessee Volunteers celebrates after the game against the Georgia Bulldogs at Sanford Stadium on October 1, 2016 in Athens, Georgia. (Photo by Scott Cunningham/Getty Images)
Tennessee head coach Butch Jones was on his call-in show on Sunday and made an admission that might make some fans a little nervous. The Hail Mary play that won the game wasn't drawn that way and in fact, it wasn't even supposed to be the play at all.
RELATED: Tennessee stuns UGA on Hail Mary in Athens
They were going to try some hook-and-ladders?!?!? That would have likely ended disastrously and absolutely nothing like the Miami-Duke miracle finish from last year. You remember that one, right? Miami lateraled something like eight times, had a knee down at some point and the refs totally screwed up the ending so Miami ended up winning even though they didn't deserve it all.
RELATED: The Miami Miracle shouldn't have happened and Duke's coach is pissed
Instead, Tennessee lined up in all verticals and let quarterback Josh Dobbs chuck it into the end zone. That obviously worked as Jauan Jennings — a former QB himself — jumped up and came down with the touchdown to give the Vols a 34-31 win over Georgia. It's a good thing Jones "had a feeling" or else Tennessee might not be headed to College Station 5-0 and in command of the SEC East.
[h/t Saturday Down South]