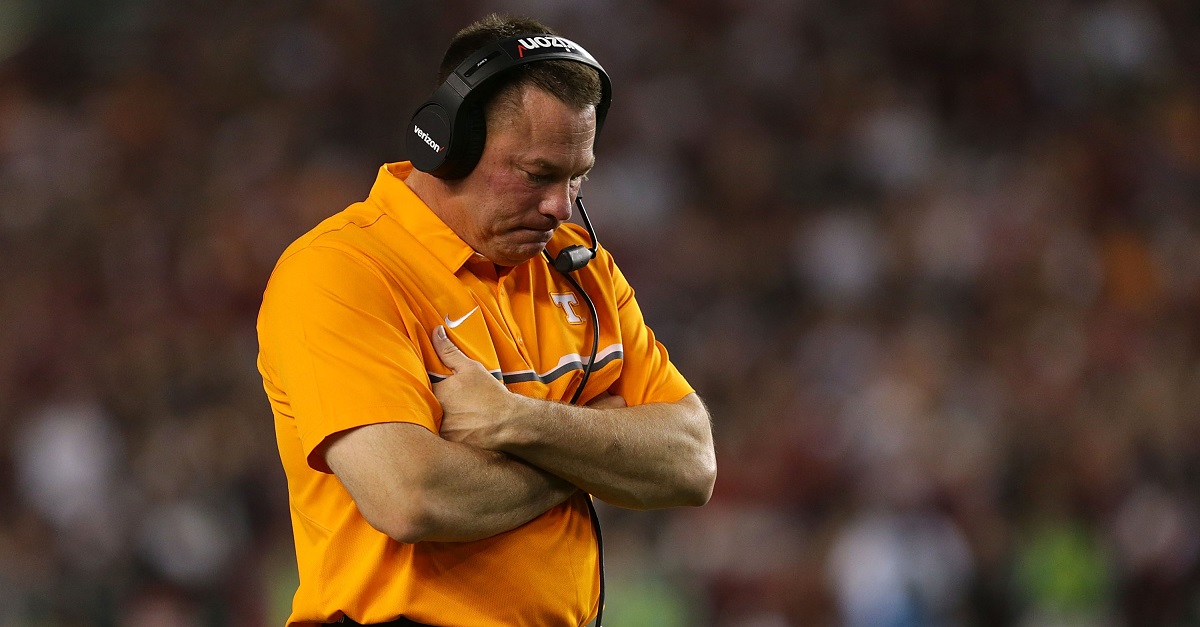 Tyler Lecka/Getty Images
COLUMBIA, SC - OCTOBER 29: Head coach Butch Jones of the Tennessee Volunteers reacts during their game against the South Carolina Gamecocks at Williams-Brice Stadium on October 29, 2016 in Columbia, South Carolina. (Photo by Tyler Lecka/Getty Images)
Butch Jones and the Tennessee Volunteers annually come up with a motivational tactic that is supposed to get players and fans excited.
This year, the Vols decided on a trash can for players to dunk footballs into after forcing turnovers. Unless Jones isn't completely unaware of the irony, I'm not exactly sure what the can has to do with anything and neither does the internet, apparently.
Fans and media members torched Jones and the Vols for this questionable decision.
(That isn't actually Lane Kiffin's account)
Seriously, the lack of self-awareness is unbelievable.
Jones entered the season on the hot seat and has been a walking meme since his arrival, yet still thought it was a good idea to make a trash can the Vols' "thing" at the risk of, you know, playing like trash on national television for three quarters.
Can you imagine the meeting within the UT athletic department? "Yeah, people are totally going to think this is the coolest thing ever!"
Best of all, when the Vols finally did force a turnover they missed the dunk!
This is real life for Tennessee fans.
Somehow the Vols miraculously rallied back from a 14-point second half deficit to force overtime and win 42-41. But still, the trash can and how symbolic it was for the team's play during the first three quarters is beyond ridiculous.
Butch Jones, you've got to be more self-aware, my guy.