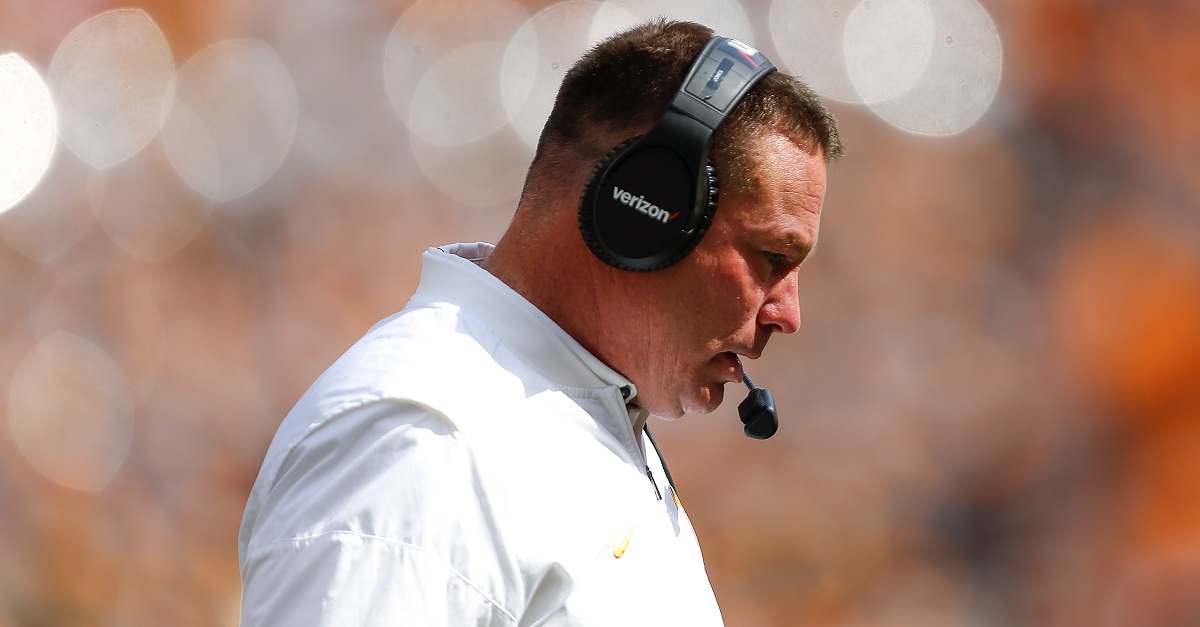 Michael Reaves/Getty Images
KNOXVILLE, TN - OCTOBER 14: Head coach Butch Jones of the Tennessee Volunteers reacts against the South Carolina Gamecocks during the second half at Neyland Stadium on October 14, 2017 in Knoxville, Tennessee. South Carolina defeated Tennessee 15-9. (Photo by Michael Reaves/Getty Images)
USA Today's Dan Wolken believes SMU coach Chad Morris is the "sensible" choice to replace Tennessee coach Butch Jones next season.
During a piece in which he broke down several potential upcoming college football coaching vacancies, Wolken named the former Clemson assistant as the most realistically successful option for the Vols.
Sensible hire: Chad Morris

Tennessee fans are naturally drawn to the past (you'll hear plenty of calls to bring back Phil Fulmer, David Cutcliffe or even try to hire Peyton Manning), but which current program should the Vols try to model? That would be Clemson, which is in the similar position of having a limited amount of in-state talent available but has established an attractive brand that draws players from Georgia, Florida and even the Northeast. Who knows how to do that better than Morris, the former Clemson offensive coordinator?

Forget his 11-19 record at SMU. He took over an absolute dumpster fire and has transformed it into a very competitive AAC outfit in fairly short order. Morris is a sharp offensive mind, blows away someone like Butch Jones in the charisma department and knows the recruiting landscape in areas like Georgia where the Vols need wins.
Wolken also acknowledged Jon Gruden as the Vols' "dream hire" and former Tennessee coach Lane Kiffin as the team's "entertainment value hire."
FanBuzz's Take
Chad Morris?
How on Earth is that a sensible hire. "Forget his 11-19 record?" Okay, well let's just choose not to acknowledge that he has a sub-.500 record in a smaller conference and give him an SEC coaching job.
No. No more coaches with losing records and/or ones that come from the AAC or MAC. That's not comparable to Phil Fulmer, that's comparable to Jones and Derek Dooley.
Dooley was hired out of necessity because Kiffin walked away so abruptly that fans overlooked his sub-.500 record and fed into the excuse that his Louisiana-Tech team had improved during his tenure as head coach and athletic director. Jones had a competitive Big East team at Cincinnati, which got him hired at one of the winningest programs in SEC history and eventually proved to be a terrible decision once the rest of the SEC East caught up to the Vols.
As a Tennessee alum, I don't want another coach that I have to Google to know what he's accomplished. I don't want a coach who has a losing record in the AAC, but "it's fine because his team is competitive now."
That is straight up Jones/Dooley territory and I want the next guy in charge to be the complete opposite. Maybe Tennessee won't be able to land Gruden or Chip Kelly, but it damn sure deserves better than Chad Morris.