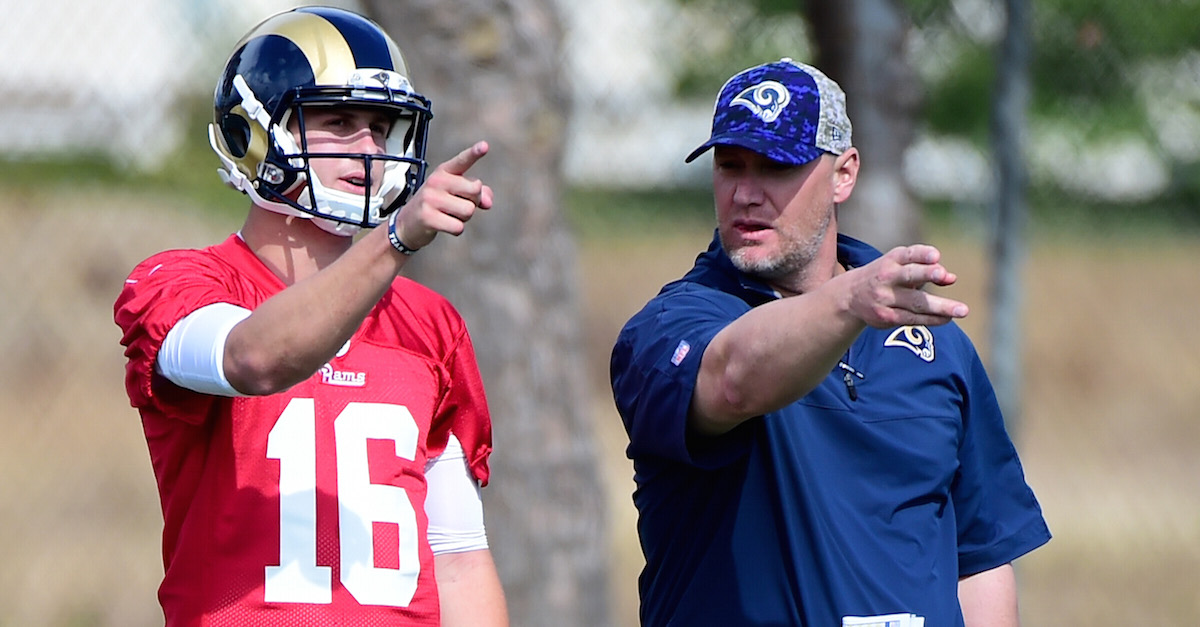 Harry How/Getty Images
OXNARD, CA - MAY 06: Jared Goff #16 of the Los Angeles Rams and quarterback coach Chris Weinke discuss a play during a Los Angeles Rams rookie camp on May 06, 2016 in Oxnard, California. (Photo by Harry How/Getty Images)
Former Heisman Trophy winner and recent Alabama offensive analyst Chris Weinke has reportedly emerged as a potential candidate for Tennessee's running backs coach vacancy, according to Gridiron Now's John Brice.
Weinke was previously reported to be the Vols' quarterbacks coach shortly after the hiring of Jeremy Pruitt in December, but apparently turned down the position.
The former Heisman Trophy played quarterback for the Florida State Seminoles from 1997-2000 and was selected by the Carolina Panthers in the fourth-round of the 2001 NFL Draft. He spent six seasons with the Panthers (2001-06) and one with the San Francisco 49ers (2007) before retiring.
Weinke began his coaching career at IMG Academy in Tampa, Florida, where he served as the head coach for five seasons. Prior to joining Alabama, he worked as the St. Louis/Los Angeles Rams quarterbacks coach from 2015-16.
Tennessee reportedly parted ways with running backs coach Robert Gillespie, multiple sources confirmed to Volquest.com on Tuesday.
Gillespie was the only coach retained by new head coach Jeremy Pruitt from the previous regime prior to the report. He was among the coaches officially announced as part of Pruitt's inaugural staff last week after National Signing Day.
Gillespie was making an annual salary of $515,000, according to contact information released last week via Volquest. However, he was not offered an extension and only had one year remaining on his contract, while the rest of Pruitt's staff currently has two or three years remaining on their current deals.
Gillespie joined Tennessee's staff as a running backs coach in 2013 and added recruiting coordinator and assistant head coach to his title during the 2015 season.
The running back position was one of the few bright spots for the Vols during a historically bad 2017 season, as well as throughout Gillespie's tenure.
Rajon Neal (2013) and Jalen Hurd (2015) both recorded more than 1,000 yards, while future NFL Rookie of the Year Alvin Kamara flourished in a limited role during his time in Knoxville.
Gillespie was absent from Tennessee's staff meeting on Tuesday morning, according to the report.