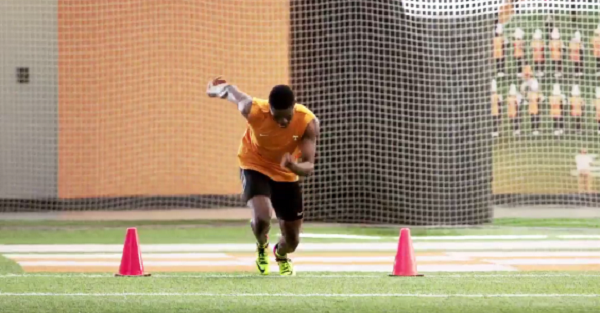 @Vol_Twitter/Twitter
@Vol_Twitter/Twitter
Former Tennessee track star Christian Coleman set a new world record in the 60-meter dash at 6.34 seconds during the U.S. Indoor World Championships on Sunday.
"I was just trying to come out with the win," Coleman told IAAF.com on Sunday. "My start was decent. Every time, I feel like I've got a lot of work to do (coming out of the blocks). When I transitioned, I stood up, and I felt as good as I've ever felt. For it to be the world record was pretty special.

"I just love this sport. It's so competitive, and either you've got it or you don't on this day. I just love racing in the big races, when everybody's watching. I just flourish in those moments.

"It's not really in my personality, but when the lights are on, it just comes out."
Coleman broke two-time Olympic gold medalist Maurice Greene's nearly 20-year-old record of 6.39 seconds set in 1998 — which he also matched again in 2001 — by 0.5.
The former Tennessee track star had previously clocked a would-be record time of 6.37 seconds during the Clemson Invitational in January, but his "time couldn't be submitted for world record ratification because that meet didn't use electronic starting equipment," according to GoVols247.
"That's what means a lot to me, because I know Maurice Greene personally, and he told me he wanted me to break the record," Coleman said during the Clemson Invitational last month. "So that was in the back of my mind, but I didn't realize I had the capability to do it in the first meet."
Coleman has had a notable year, having defeated eight-time Olympic gold medalist Usain Bolt twice in the World Championships, as well as recording the fastest 40-yard dash ever at 4.12 during Tennessee's football Pro Day last spring.