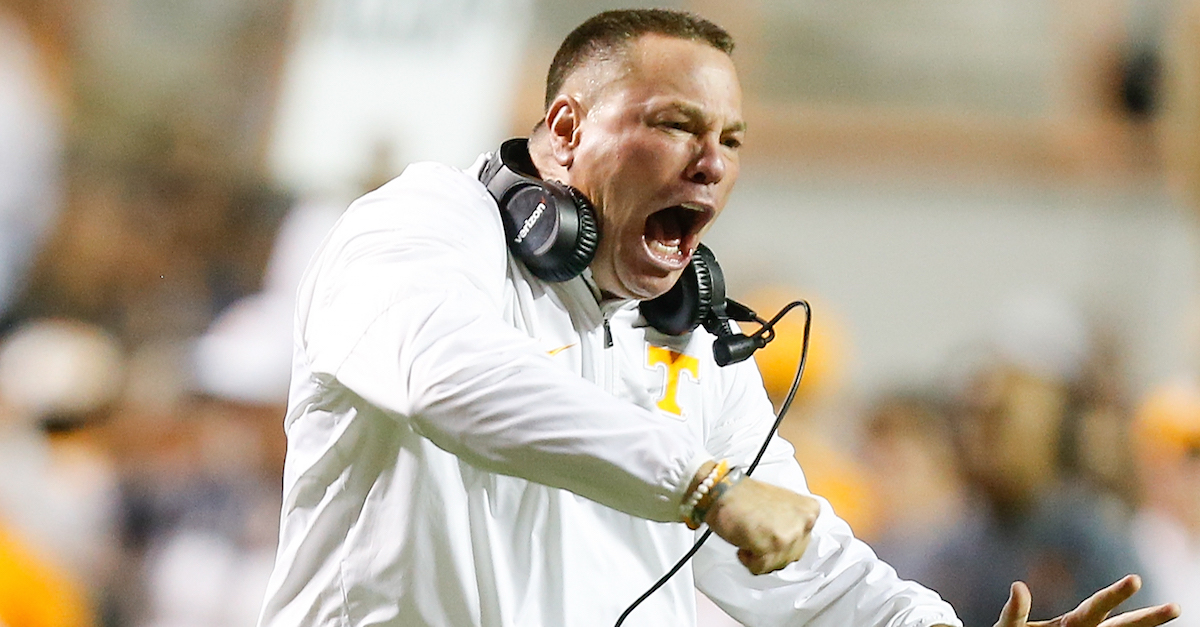 Michael Reaves/Getty Images
KNOXVILLE, TN - NOVEMBER 04: Head coach Butch Jones of the Tennessee Volunteers reacts against the Southern Miss Golden Eagles during the second half at Neyland Stadium on November 4, 2017 in Knoxville, Tennessee. (Photo by Michael Reaves/Getty Images)
Former top-ranked tight end prospect Daniel Helm's career at Tennessee ended abruptly after one season in 2014.
The reason? Former head coach Butch Jones, according to an email sent by his father, Steve Helm, to former UT chancellor Jimmy Cheek nearly one year after his transfer, which was obtained by the Knoxville News Sentinel this week.
"I made sure we got Daniel out of there before (Butch) Jones put him in a place where Daniel might have knocked him out," Helm wrote. "Then, my great straight A kid would have an assault charge. If a member of that football team does finally lose it with Jones and an assault charge is filed, we will provide authorities with everything we know as we will not let that man ruin a young kid's life."
Helm ranked as the No. 1 tight end for the 2014 national recruiting cycle, according to Rivals and was one of 16 four-star signees from Jones' first full-year recruiting class, which included 32 total players.
Helm, who now plays for Duke, is among several would-be seniors that transferred away from Tennessee's program after just one season, along with former teammates defensive lineman Dewayne Hendrix, wide receiver Vic Wharton and cornerback D'Andre Payne.
Wharton has enjoyed a stellar season at Cal with 60 receptions for 810 yards, while Hendrix (Pittsburgh), Payne (Iowa State) and Helm are all starters for their respective teams.
Helm's father confirmed speculation regarding Jones' questionable off-field tactics, but opted not to take his case public due to his son's fondness of UT and his former teammates, as well as the then-positive perception of the coach while he was winning football games at the time of the incident.
"When my son, Daniel Helm, left UT, we said nothing to anyone as we knew as long as Butch was winning nobody would care or listen," Helm's email read. "Daniel also loved the team and the school and didn't want to cause trouble."
Helm also claimed Jones highlighted a play in which his son was blindsided by a Florida player and berated the tight end, referring to him as "slang terms for female genitalia" to describe his play. He also said Jones told his son he would have "taken out the player's knees" in retaliation given the situation.
"What angered Daniel the most was that he later blocked that same defender, driving him downfield and out of bounds," Steve said. "But Jones didn't show that play."
Jones was fired on Nov. 12 following a 50-17 blowout loss to Missouri, which dropped the Vols to a 4-6 record during his fifth season.