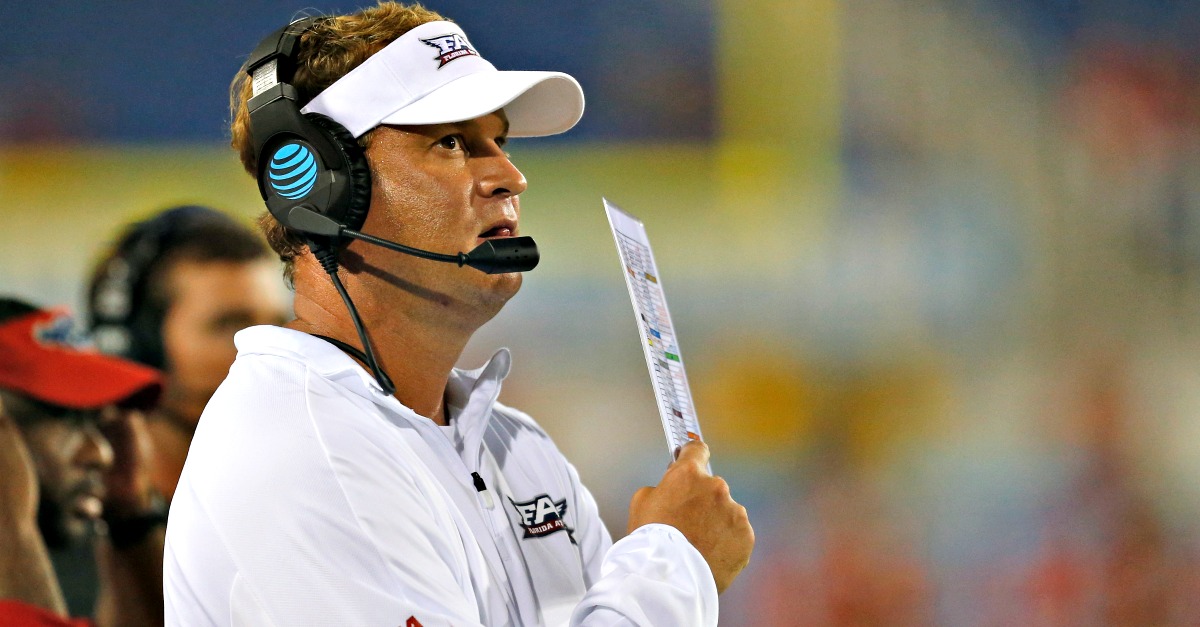 Joel Auerbach/Getty Images
BOCA RATON, FL - SEPTEMBER 1: Head coach Lane Kiffin of the Florida Atlantic Owls looks on during 4th quarter action against the Navy Midshipmen on September 1, 2017 at FAU Stadium in Boca Raton, Florida. (Photo by Joel Auerbach/Getty Images) *** Local Caption *** Lane Kiffin
Former Tennessee quarterback and WNML radio host Erik Ainge made an attempt to expose Lane Kiffin — or something along those lines — by sharing a private direct message conversation with former Tennessee and current Florida Atlantic coach Lane Kiffin on Twitter.
Instead, he made himself look like a petulant child in the process as many Vols fans chastised his decision.
Apparently Ainge messaged Kiffin "you suck" and that he didn't want him to "ever come back" to UT. The coach responded hilariously by asking if his son had taken his phone and questioned whether his conduct was up to the ethics of his hosting gig.
The quarterback proceeded to credit Kiffin's playcalling abilities backhandedly, praise former coordinator David Cutcliffe and admit that he was acting like a child, while once again adding that he didn't want to see the coach return to Knoxville, to which Kiffin replied, "never said I wanted to."
Ainge shared the conversation as if it was some damning evidence against the coach's reported interest in the Tennessee job or even feelings of the position in general. Many fans, however, called him out for his immaturity.
Additionally, Cody McClure of the rival FOX Sports Knoxville station, created a petition for the UT athletic department to "Bring Lane Kiffin back to Tennessee," via Change.org on Wednesday.
It's clear that Tennessee fans have softened their stance on the coach, who infamously left after one season as they continue an embarrassingly long and drawn-out coaching search.
Perhaps time heals all wounds after all.