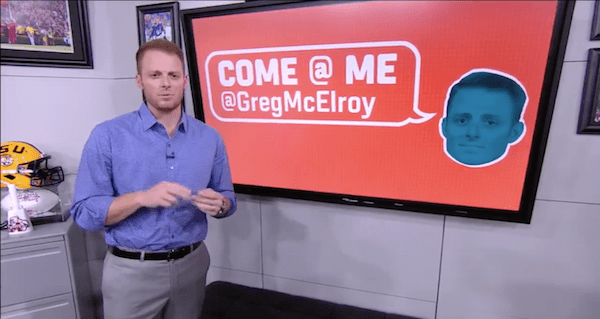 @SECNetwork/Twitter
@SECNetwork/Twitter
It's safe to say Greg McElroy was not part of the #EmptyNeyland movement.
The former Alabama quarterback and current SEC Network host torched Tennessee fans who attempted to boycott their team's game against Southern Miss last week in protest of the athletic department keeping head coach Butch Jones employed at least for the time being.
McElroy went on a rant during his show, Thinking Out Loud, on Monday in a segment called "Come @ me."
?Guys, last week there was a hashtag that was making the rounds on social media, #EmptyNeyland. They go out there on the field, wearing orange, wearing white trying to bring you pride every single week and to abandon them in a moment of need is flat-out embarassing. To anyone associated with the #EmptyNeyland trend, you failed by the way. 95,000-plus showed up so congrats and a standing ovation to those who were there to support their team. But those associated with #EmptyNeyland, come at me because you?re a disgrace to your fan base and your team.?
As McElroy pointed out, there was still an estimated attendance of 95,000 at Neyland Stadium this past weekend, which is still impressive considering the game was against Southern Miss and the majority of Tennessee fans seem to want Jones fired.
However, it's also worth noting that the SEC Network host played at Alabama, a team that has consistently been a top contender in college football since Nick Saban's arrival.