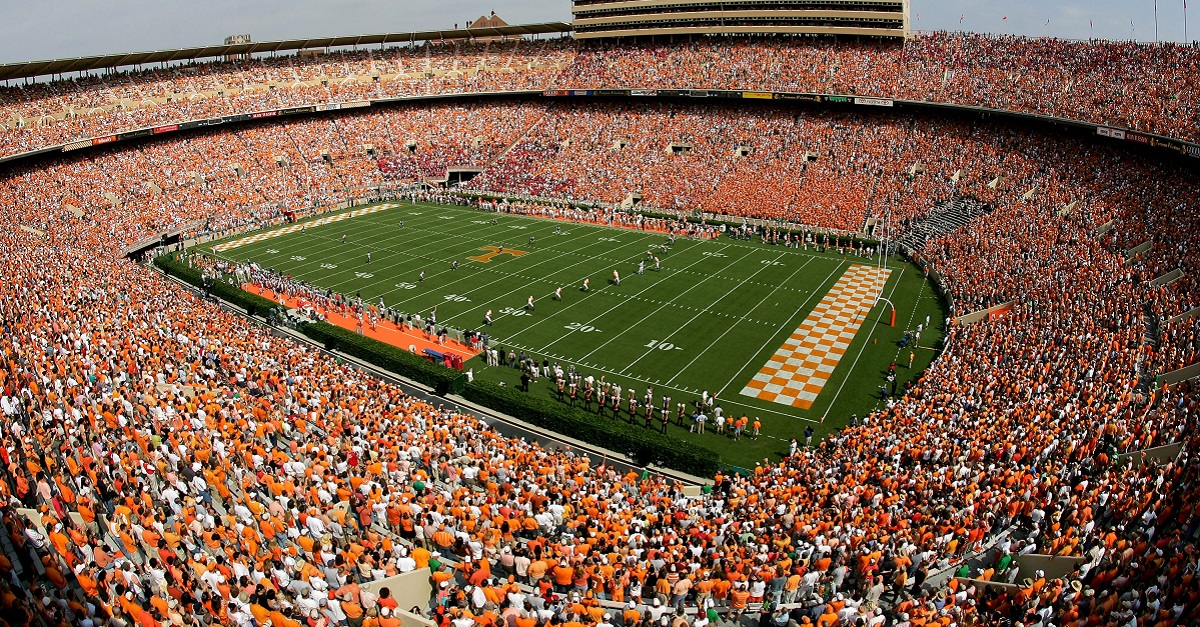 Doug Pensinger/Getty Images
KNOXVILLE, TN - OCTOBER 01: Fans pack the stands to support their teams as the Mississippi Rebels face the Tennessee Volunteers on October 1, 2005 at Neyland Stadium in Knoxville, Tennessee. (Photo by Doug Pensinger/Getty Images)
Tennessee may have finally landed its next head coach.
According to Vols insider John Brice per Gridiron Now, multiple sources on UT's campus and "people close to members of the school's Board of Trustees" have confirmed that first-year athletic director John Currie could potentially introduce the Vols' next head coach between "the weekend or first of next week."
"Per multiple sources on the UT campus and connected to the school?s board of trustees, Tennessee event management and facilities staff have been informed to not waste any time in clean-up and turnaround efforts following the Vols? finale against Vanderbilt," Brice wrote. "UT introduces new football coaches inside Neyland Stadium facilities and also historically hosts private meet-and-greet events for new coaches with boosters and program friends. Additionally, UT routinely conducts photo and video shoots on the field inside Neyland Stadium with a new coach."
Brice confirmed that the names most commonly linked to the Tennessee coaching search are Mississippi State's Dan Mullen, Ohio State defensive coordinator Greg Schiano and Iowa State head coach Matt Campbell, while Oregon's Willie Taggart and UCF's Scott Frost are also being mentioned.
Former Tampa Bay Buccaneers coach Jon Gruden — who served as a graduate assistant under Johnny Majors in the 1980s — and Washington head coach Chris Petersen are also considered "outlier candidates," according to the report.
Brice received confirmation through UT athletics employees, agents and an NFL executive, as well as former UT football players that Gruden has discussed the job with Tennessee officials and potential assistants during the Vols' coaching vacancy.
He also noted that Currie flew out to the West Coast this week to "gauge (Petersen's) interest in the head coaching position prior to his trip to the Bahamas with the UT men's basketball team at the Battle of Atlantis tournament.
The report also denied a previous rumor that Currie was expected to meet with Mullen on Friday, following the Bulldogs' regular season loss to Ole Miss in the Egg Bowl.