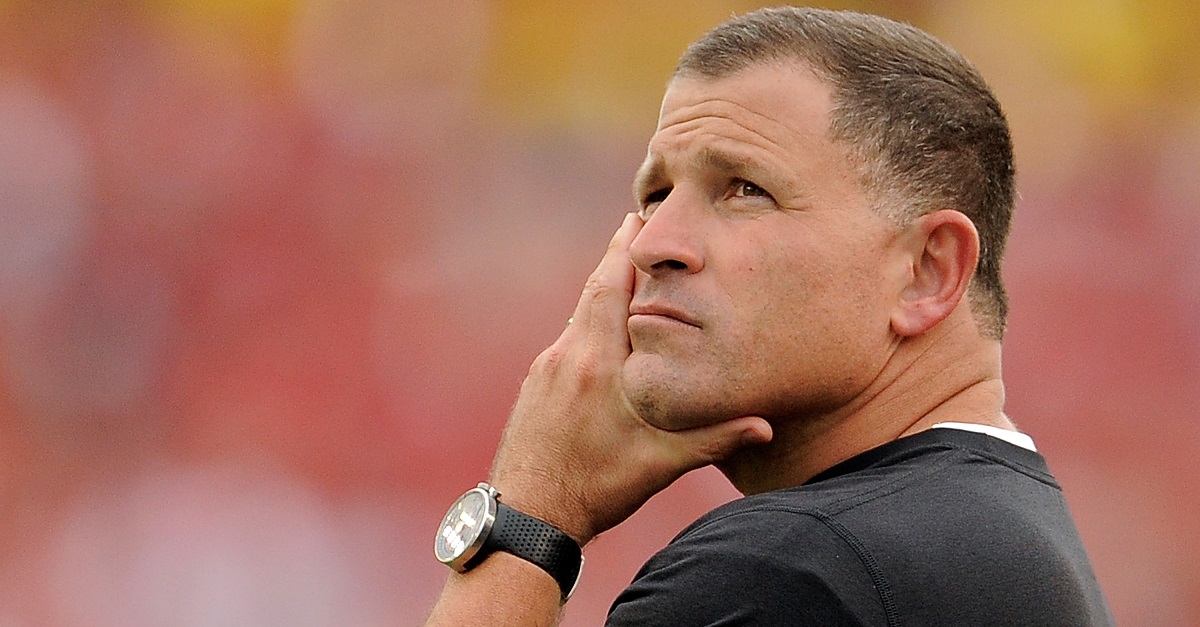 Stacy Revere/Getty Images
TAMPA, FL - DECEMBER 15: Greg Schiano, head coach of the Tampa Bay Buccaneers, watches the action during a game against the San Francisco 49ers at Raymond James Stadium on December 15, 2013 in Tampa, Florida. San Francisco won the game 33-14. (Photo by Stacy Revere/Getty Images)
The memorandum of understanding signed by former Tennessee athletic director John Currie and would-be head coach Greg Schiano on Nov. 26 lacked the signatures of Chief Financial Officer David Miller and Chancellor Beverly Davenport, therefore, making it a non-binding document, according to the Knoxville News Sentinel.
The University of Tennessee released the MOU to the newspaper on Monday after receiving a records request. The proposed deal would have paid Schiano, who is currently working as Ohio State's defensive coordinator, $27 million in guaranteed wages over six years as part of the proposed contract.
However, since the MOU is a non-delegated contract, it needed CFO's signature to be considered binding, according to the university's contract policy.
Tom Satkowiak, a spokesman for Tennessee's athletic department, clarified the importance of the signature in an email releasing the document to the Sentinel.
"That document was never signed by The University of Tennessee?s Chief Financial Officer, whose signature would have been required to make it legally binding on the University," Satkowiak wrote.
Tennessee fans protested the reported decision to hire Schiano based having previously worked as a defensive assistant at Penn State under former defensive coordinator Jerry Sandusky, who was convicted of child molestation stemming from his tenure with the Nittany Lions in 2012.
According to a report, Schiano allegedly knew of Sandusky?s sexual abuse and turned a blind eye, according to testimony from former Penn State assistant Mike McQueary that was unsealed in 2016 by a Philadelphia court.
Schiano has denied the allegations in the past, having told ESPN?s Adam Schefter: ?I never saw any abuse nor had reason to suspect any abuse during my time at Penn State.?