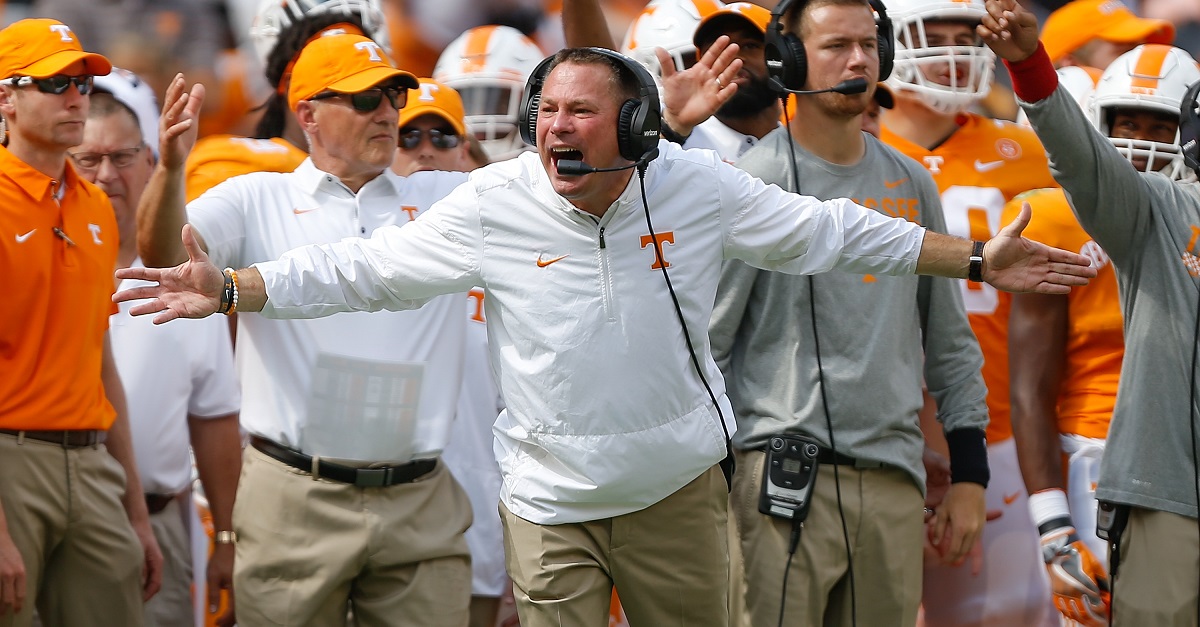 Michael Reaves/Getty Images
KNOXVILLE, TN - OCTOBER 14: Head coach Butch Jones of the Tennessee Volunteers reacts against the South Carolina Gamecocks during the first half at Neyland Stadium on October 14, 2017 in Knoxville, Tennessee. (Photo by Michael Reaves/Getty Images)
New year, same story.
For the second consecutive draft season, a former Tennessee running back is being heralded as a potential sleeper by NFL scouts.
Last season it was eventual Rookie of the Year and New Orleans Saints breakout star Alvin Kamara. Now, former starter John Kelly is receiving similar buzz.
In a scouting report on the former Vol running back, longtime football scout Chris Landry wrote on his website, LandryFootball.com, that Kelly has the chance to have a better career at the professional level than college as he — like Kamara — was "criminally underused" during his time in Knoxville.
?Tennessee RB John Kelly is a potential draft sleeper,? Landry wrote. ?Kelly (5?9/212) doesn?t have the talent of an Alvin Kamara, but like several other Tennessee running backs before him, he has a chance to be a better pro than he was in college. Kelly is an explosive playmaker who was criminally underused by the Vols, and his versatile skill set still allowed him to tally over 1,000 total yards and nine touchdowns in 2017.

?He currently projects as a late Day 3 selection, but a strong pro day and showing at the combine could see that stock rise.?
Kelly spent the entire 2017 season as Tennessee's primary back — excluding a one-game suspension during the Vols' Oct. 28 game at Kentucky — but only made one start in place of the injured Kamara and departed former starter Jalen Hurd as a sophomore in 2016.
The Detroit native recorded 1,738 yards and 14 touchdowns on 330 attempts during his final two seasons and recorded more than 1,000 yards from scrimmage despite playing behind an offensive line battling numerous injuries and a roulette of quarterbacks, none of which had prior starting experience entering the 2017 season.
While a big reason for his limited role was due to having Kamara ahead of him, the analysis on Kelly is yet another critique at former head coach Butch Jones, who was even questioned about managing the running back's reps during his final season.
Surely, Kamara's immediate success will only help Kelly's draft stock, especially if he's able to have an impressive showing during his Pro Day and NFL Combine sessions.