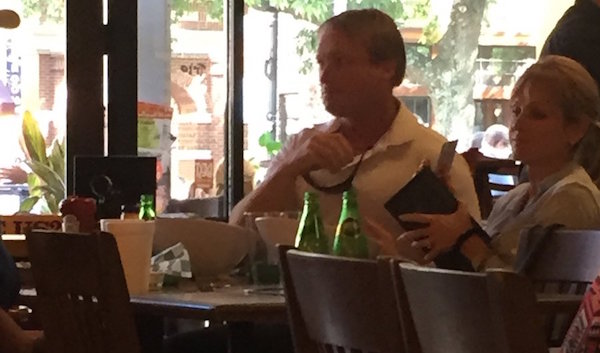 SamuelHutto/Twitter
SamuelHutto/Twitter
THIS. IS. NOT. A. DRILL.
Jon Gruden, Tennessee fans' dream coaching candidate for years, was sighted in Knoxville on Friday and is expected to be in attendance for Saturday's game against South Carolina at Neyland Stadium.
Gruden was photographed by Twitter user Sam Hutto eating lunch in the Market Square pedestrian mall area of downtown Knoxville.
Naturally, Tennessee fans tweeted their excitement of what can only be compared to seeing Big Foot in the wild.
For those unaware, Gruden's past ties to the Tennessee football program have led Vol fans to believe that the former Super Bowl winning coach could possibly take over on Rocky Top.
Gruden began his career as a graduate assistant with the Vols under Johnny Majors in 1986-87. His wife, Cindy, was a Volunteer cheerleader and, as several Twitter users pointed out, his son apparently attends UT.
The Monday Night Football broadcaster has also referred to the head coaching position at Tennessee as a "dream job" on numerous occasions and expressed interest in coaching again, although he's also downplayed the notion of coaching at the college level.
But that won't stop the Volunteer faithful from dreaming, especially with many ready to move on past current head coach Butch Jones.
If nothing else, Saturday's game against South Carolina just became much more interesting.