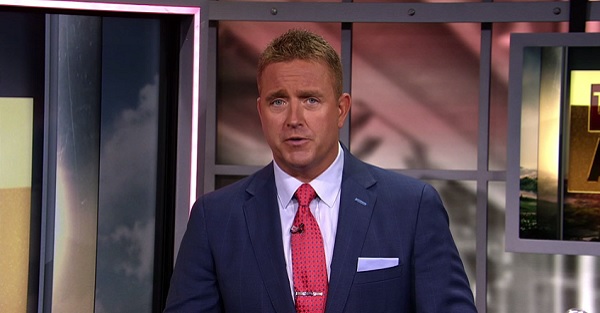 ESPN/Screenshot
ESPN/Screenshot
The Tennessee Volunteers are still searching for a new head coach.
Butch Jones certainly didn't work out on Rocky Top and Greg Schiano's brief stint in the Tennessee spotlight was a disaster.
Expectations are high at Tennessee so the next coach the Vols hire is going to have to be a good one. Either he'll have to be an established name who can continue Jones' recruiting momentum while at the same time bringing the Volunteers up to a level to compete for SEC titles, or he'll have to be a young up-and-comer who will get both fans, and recruits, excited again.
Either way, that doesn't change the fact that Tennessee is currently a mess, but according to ESPN college football analyst Kirk Herbstreit, there is one could out there who could be the cure for the Vols' ails.
That coach, per Herbie, is USC offensive coordinator Tee Martin, a former Volunteer quarterback.
Martin played at Tennessee from 1996 to 1999, leading the 1998 Vols to an undefeated 13-0 season and a Fiesta Bowl victory over Florida State — which was the school's first college football championship since 1951.
Martin is a legend in Tennessee, and he hasn't done so bad for himself as a coach, either. His first major college gig was at Kentucky as a wide receiver coach and he's slowly but surely worked his way up to offensive coordinator at USC — one of the top college football schools in the nation.
The former Tennessee quarterback would be a nice name for the Volunteers, and it's worth noting that he currently has USC scoring 34.8 points per game.
Still, with reports that Mike Leach could be the next guy at Tennessee perhaps a reunion between the national champion quarterback and the Vols is just not in the cards.
At least for now.