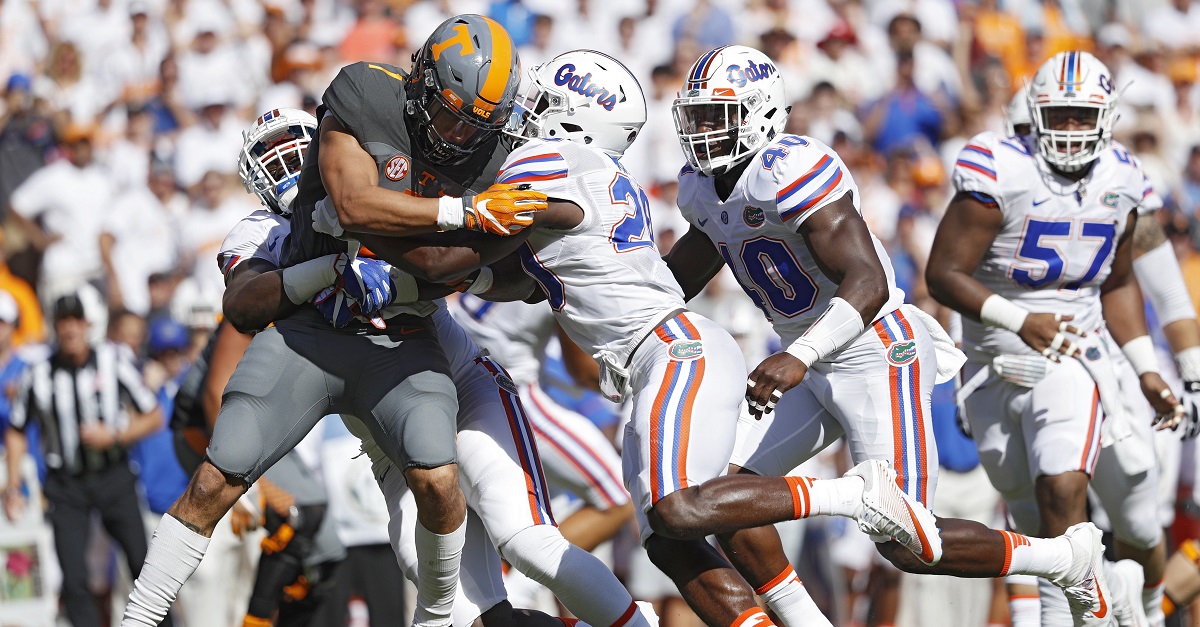 Joe Robbins/Getty Images
KNOXVILLE, TN - SEPTEMBER 24: A group of Florida Gators defenders make a tackle behind the line of scrimmage against Jalen Hurd #1 of the Tennessee Volunteers in the first quarter at Neyland Stadium on September 24, 2016 in Knoxville, Tennessee. (Photo by Joe Robbins/Getty Images)
Jalen Hurd might have had his time in the headlines, but it looks like his mother might not be done. Tara Michelle Smotherman was arrested during the Florida game at Neyland Stadium on Sept. 24.
RELATED: Greg McElroy calls out Jalen Hurd as a 'quitter'
Smotherman is scheduled to appear in court later this month on charges of physical assault and resisting arrest, according to court records.
RELATED: ESPN's Chris Low drops bombshell on Jalen Hurd's decision
The Knox County Sheriff's Office stated it received two complaints of Smotherman creating a disturbance during the game. When KCSO officer Cheralyn Wood tried to escort Smotherman out of the stadium, Smotherman got in her face and started yelling at her according to the records.
According to those same records, Smotherman pushed Wood in the chest and became combative on the exit ramp as Wood and another officer escorted her out of the stadium. She continued to resist and verbally abuse the officers until they forced her to the ground and handcuffed her with her arms behind her back and she was taken to Knox County Jail.
[h/t Knoxville News Sentinel]