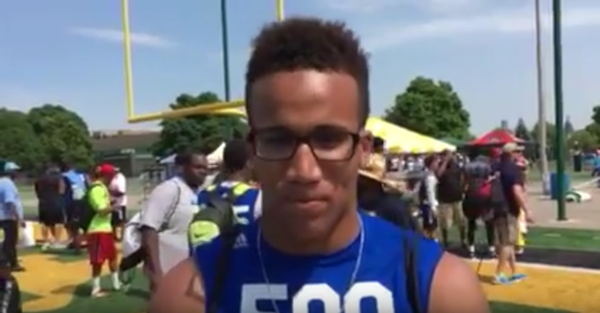 L'Christian Smith is getting interest from all the big schools you can imagine and why shouldn't he? He's 6'5″, 210 pounds as a rising junior at Huber Heights High School near Dayton, Ohio. He has offers from such contenders as Alabama, Michigan State, Penn State, Ohio State and Michigan. However, it's a moment had in Neyland Stadium that sticks out to him and why the Vols are so high on his list right now.
"I went to a game there a while ago, two or three years ago, before all this happened. I was actually on the field with my dad, and it was loud, and I loved that about Tennessee, how loud it is, because I feed off that when I'm playing. It never left my brain … it was a special moment."
RELATED: This DJ says Neyland is the best environment he's ever been in
Smith also went on to say that he will be taking a trip down to Knoxville in the next month or so and visit with the staff. He wants to have a strong relationship with them and he believes that's the most important part of the process.
Smith is ranked the No. 4 receiver in the 2018 class by 247Sports, which also has him as the No. 94 overall player in the 2018 class and the No. 5 football prospect in talent-rich Ohio.
[h/t SEC Country]