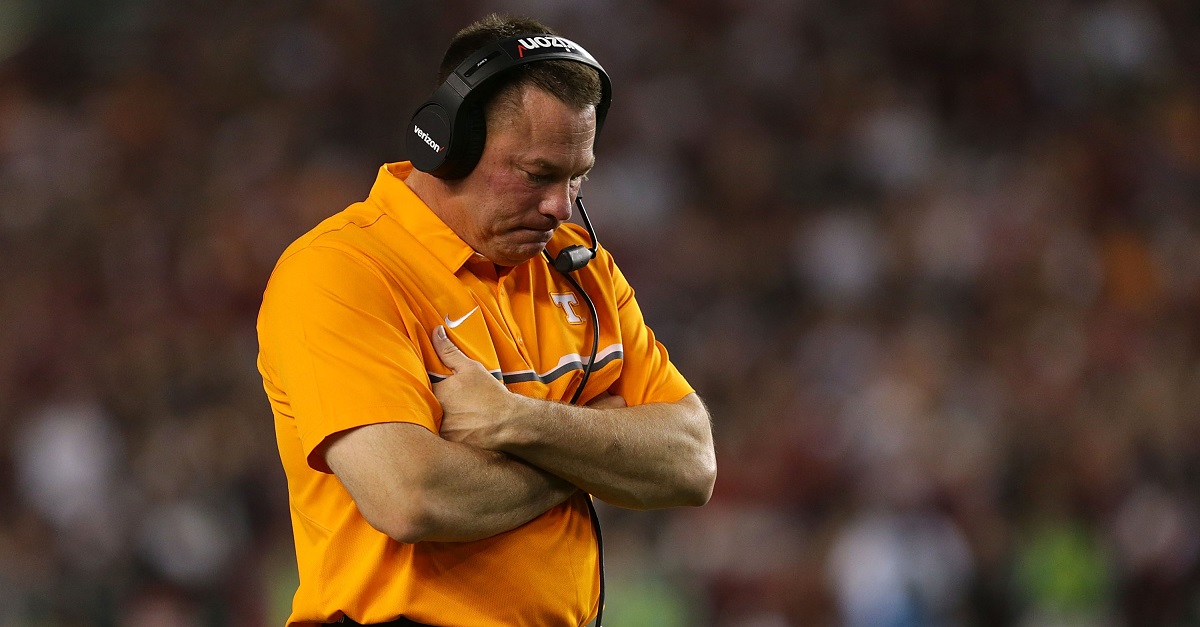 Tyler Lecka/Getty Images
COLUMBIA, SC - OCTOBER 29: Head coach Butch Jones of the Tennessee Volunteers reacts during their game against the South Carolina Gamecocks at Williams-Brice Stadium on October 29, 2016 in Columbia, South Carolina. (Photo by Tyler Lecka/Getty Images)
The latest run-in with the law brought back up a story from 2014 when Butch Jones decided it was a good idea for Adam "Pacman" Jones to give a speech to his team on "character":
Pacman Jones, the Cincinnati Bengals cornerback, was caught on video in an angry, profane tirade after he was arrested in Cincinnati on Jan. 3, based on a report on TMZ.com.
TMZ obtained a video that it says shows Pacman Jones in a police car after he was taken into custody. Pacman Jones, on the video, dropped the "n" word multiple times, directed profanity at the officer, demanded to know his charges, and at one point told the cop: "I hope you die tomorrow."
Pacman Jones has had numerous run-ins with the law, per ESPN.
He was charged with assault and felony vandalism from a nightclub altercation in 2005, charged with possession of marijuana, disorderly conduct and public intoxication in separate incidents in 2006. He allegedly spit in a two women's faces in August and October of 2006. Pacman Jones was present in a brawl at a stripclub where three people were shot and the co-owner claimed the shooter acted on Pacman Jones' behalf.
He was suspended for the entire 2007 season without pay (a loss of more than $1.2 million) following violations of the league's personal conduct policy. He pled guilty to a disorderly conduct charge in 2011, and was found not guilty of an assault charge in 2013.
His next court appearance is scheduled for Feb. 10.
Butch Jones is thought to be on the hot seat heading into next season after a pretty miserable 9-4 2016 campaign.