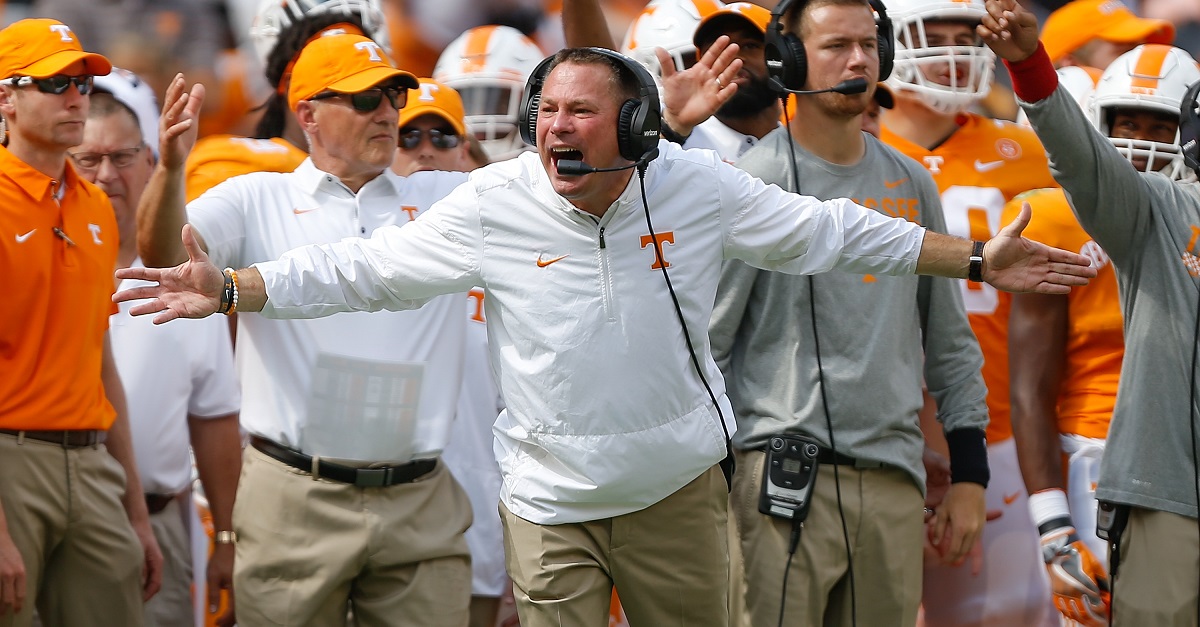 Michael Reaves/Getty Images
KNOXVILLE, TN - OCTOBER 14: Head coach Butch Jones of the Tennessee Volunteers reacts against the South Carolina Gamecocks during the first half at Neyland Stadium on October 14, 2017 in Knoxville, Tennessee. (Photo by Michael Reaves/Getty Images)
During an appearance on Mike & Mike Tuesday, SEC Network analyst Paul Finebaum said he believes Tennessee has already made its decision to fire coach Butch Jones, although an announcement will be delayed.
"In my mind and based on what I hear the decision has been made to fire Butch Jones," Finebaum said. "It will not be announced for a week or two or three primarily because there's not much you can do. You can certainly cast a net to bring in candidates but the athletic director John Currie knows what he wants to do. I'm sure he is already doing due diligence."
Finebaum, a Tennessee alum, has been critical of Jones in recent weeks during numerous appearances on ESPN programming and other media outlets.
Earlier this month, the analyst told Mike & Mike that the coach would be fired days after a "historic" blowout loss at Alabama.
"I think after Saturday when Tennessee rolls into Tuscaloosa and loses by some historic proportion that could be the end," Finebaum said. "It's hard to predict the end for Butch Jones because it's already over."
Following a meeting on Sunday with athletic director John Currie, Jones reportedly didn't plan on resigning as the Vols' head coach.
The Vols enter Saturday's homecoming matchup against Southern Miss facing a four-game losing streak. Many Tennessee fans have been outspoken against Jones throughout the season, which has led to speculation of his termination for weeks.
FanBuzz's Take
Man, what a news day for Tennessee fans based on comments from employees of the "World Wide Leader." First, we get dream candidate Jon Gruden saying "boy I miss coaching" during last night's Monday Night Football broadcast and now "PAWWWWLLLL" confirming speculation that Butch Jones is basically guaranteed to be gone after the season.
I mean, the latter should be the case anyway, but given that it is Tennessee, I'm still skeptical that a move will be made until it's actually official.
While Jones has provided me with so much angry writing content this season, I'm absolutely burned out as a Vols fan at this point.
I'd hate to see anyone else lose their job, but considering Jones will be paid a buyout worth more than most people make in their lifetime, I am counting down the minutes to his termination. This man had me cheering against a team that I have been described as "caring too much" about last week against Kentucky hoping it would force the athletic department to fire him sooner.
And trust me, if you read Tennessee twitter,  I was in the majority among Vol fans.
I do, however, disagree that a move being delayed isn't important given that Tennessee is only three wins away from a bowl berth, with the majority of its remaining four games seeming very winnable without Jones as the head coach.
But still, if somehow the athletic department does know what it's doing then I am willing to wait for everything to play out, even if that means — sigh — four more weeks of Butch Jones.