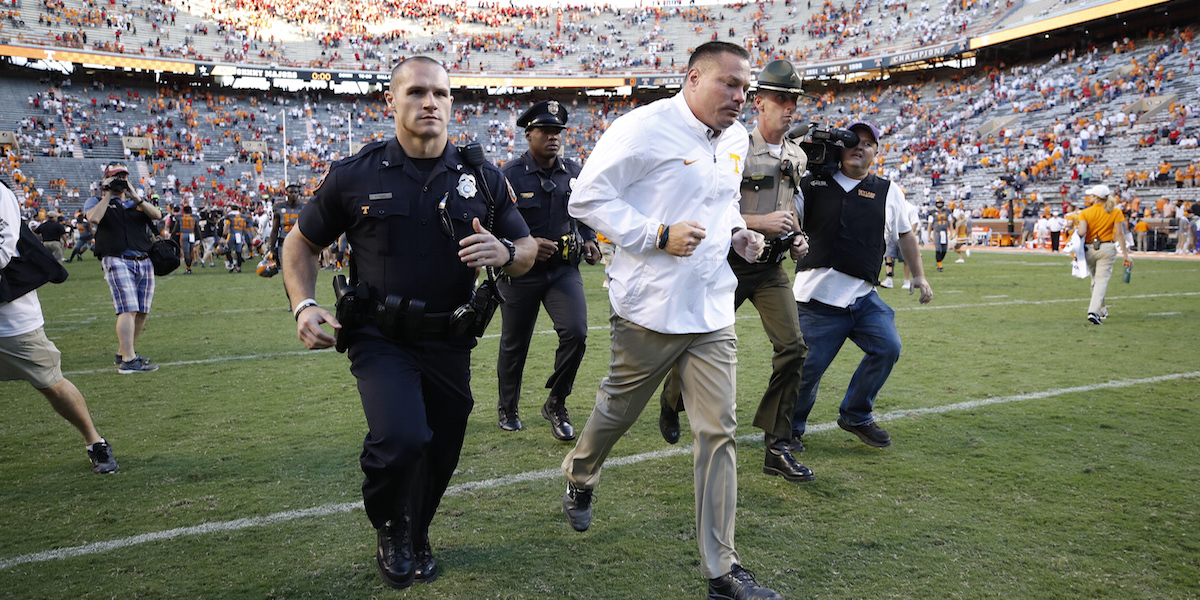 Joe Robbins/Getty Images
KNOXVILLE, TN - SEPTEMBER 30: Tennessee Volunteers head coach Butch Jones leaves the field after a game against the Georgia Bulldogs at Neyland Stadium on September 30, 2017 in Knoxville, Tennessee. Georgia won 41-0. (Photo by Joe Robbins/Getty Images)
Paul Finebaum has had some crazy callers on his television show, but every once in a while he gets someone insightful on there. On Thursday, Finebaum had a caller tell him that he was high school friends with Gruden's wife and said he is hearing Jon Gruden is the top target at Tennessee.
Normally, Finebaum would have probably shot this down or used his searing sarcasm to get a reaction from the caller and his audience. However, he apparently heard something similar.
"If I hadn't been to Knoxville last week, I would have laughed at you," Finebaum told the caller. "But I talked to someone, let me put it you that way, someone that I have a lot of trust in and that is connected deeply in that program and he told me the same thing.
"He said, 'If we lose this (Georgia) game, and something happens to Butch Jones, our first choice will be Jon Gruden.'"
That was of course last week and Tennessee did end up losing to Georgia 41-0. Jones still has a job somehow, but the hot seat has to be boiling by now. The other thing is that Gruden has said on multiple occasions that he is not interested in returning to coaching so it would be interesting to see if Tennessee could actually nab him.
In a recent interview, Gruden almost completely ruled out a return, at least in terms of coaching in college. Gruden mentioned that he wouldn't want to deal with the NCAA as a coach, joking that he would probably get his team on probation within a few weeks.
Gruden is among one of the highest-paid television personalities at ESPN. While the rumors may persist at times of a potential return to coaching, it looks like Gruden will stick to calling games and talking with quarterbacks at his QB camp.
[h/t Saturday Down South]